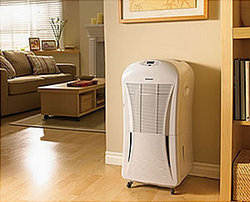 All of the uses had two things in common: They save the owner money and protect valuable property from harm.
Austin, Texas (PRWEB) June 12, 2009
Anyone who suffers from indoor allergies or has experienced illness from mold in their home has probably considered investing in a dehumidifier. However, physical ailments are not the only problems a dehumidifier can solve. SimplyDehumidifiers.com offers six of the best uncommon, but important, uses for a dehumidifier in and around the home.
1. Protect Mattresses and Bedding From Damage
Placing a mini dehumidifier in a closet can keep stored bedding and clothes from smelling musty and keep away cloth-eating insects so linens will last longer. This measure also prevents microscopic mildew from forming on sheets. This is important as mildew on bedding can easily be transferred to the inside of mattresses. If this happens, the mattress cannot be salvaged and must be thrown out.
2. Keep Electronics Functioning Properly
In high humidity areas it is possible for condensation to form inside electronics such as stereos, video players, and computers. The presence of condensation iniside these devices can cause corrosion leading to irreparable damage on hard drives and other internal components. While a malfunctioning hard drive on a home computer can be replaced, the important files, documents and photos may be lost forever. Dehumidifiers absorb moisture from the air in a room and will stop harmful condensation from ever forming.
3. Stop Woods From Warping or Cracking
Moisture in the home can cause warping in fine furniture and hardwood floors. A dehumidifier will keep woods from absorbing too much moisture, expanding and cracking. Door frames are also susceptible and can be bowed by excessive humidity which causes annoying squeaking or sticking. Whole house dehumidifiers prevent this type of damage and ensure the entire home maintains safe humidity levels.
4. Safeguard Automobiles, Machinery and Tools During Storage
While it is common knowledge that moisture causes metals to corrode, many do not realize that a common household dehumidifier will ensure tools, lawn mowers, and appliances do not decay while in storage. Tool sheds and garages protect these items from harmful external elements, but high humidity during the summer or rainy season can quickly become a threat from within. In addition, collectors of vintage cars can protect their vehicles from rusting, and interiors from deteriorating or smelling musty when in long term storage by using a dessicant dehumidifier inside the vehicle and placing a mechanical dehumidifier nearby in the garage.
5. Help Foods Stay Fresh Longer
Another often overlooked benefit of a home dehumidifier is its ability to keep stored foods fresh. Moisture causes food to decay faster than any other factor and creates an attractive environment for weevils, fruit flies and other pests. A small dehumidifier located in a food pantry will ensure maximum shelf life for dry goods thereby reducing grocery bills.
6. Preserve Family Treasures and Heirlooms
Excessive humidity can destroy photographs, record albums, fabrics and other valuable possessions stored in attics or basements. These rooms are particularly prone to seasonal dampness which fosters the growth of mildew and mold and will destroy items that require dryer air. A basement dehumidifier, portable or installed, has the capacity to remove moisture in larger rooms and crawl spaces.
No matter what unusual or common purpose a dehumidifier is to be used for, purchasing one is a relatively small investment that can save a homeowner thousands of dollars in property loss.
"After ten years of selling dehumidifiers, our call center has heard some pretty interesting ways our customers are using their dehumidifiers," said Peter Keller, Director of Product Development at SimplyDehumidifiers.com. "All of the uses had two things in common: They save the owner money and protect valuable property from harm."
The experts at SimplyDehumidifiers.com are dedicated to educating and helping consumers choose the best dehumidifier for their needs. The site provides buyer's guides, dehumidifier comparison charts and customer reviews of products for unbiased opinions. Visit SimplyDehumidifiers.com to find more creative ways a dehumidifier can be used in or around the home.
###