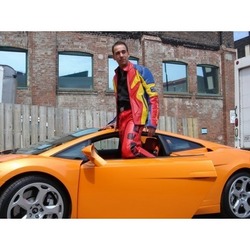 Former farm-boy fashion designer to Playboy introduces song BV on my Body by Deja Bryson
Beverly Hills, CA (PRWEB) June 20, 2010
It was announced today that Déjà Bryson a California singer/song writer, will be performing on Sunset Live Presents Key Club. Her new hit 'BV on my Body' will be introduced for the first time to a live audience. Hollywood's premiere venue, formally known as Gazzari's and the Key Club, has hosted talented artist like Van Halen, Tina Turner, and Guns N' Roses to most recently Bon Jovi, 'N Sync, Kanye West, Incubus, Prince, Def Leppard and many more!
'BV on my Body', a song written about Bian Variani's fashion and lifestyle by Déjà, has been causing quite the rouse amongst record labels and producers. Kevin Black, renowned CEO of World Hip-Hop, even goes on to say, "When was 'BV on my Body' recorded? ... Is it on the radio yet?" Bian answers "Last week… [and] not yet, we just got out of the studio." Black responded as he moves to the rhythm of the beat "It should have been on the radio last week!" 'BV on my Body' is available on http://www.bianvariani.com and http://www.myeventhub.com/variani
Fashion sensation Bian Variani accomplishes "more in a 6 month time frame then most other fashion designers have in a lifetime." Variani is known for his dramatic entrances and is the only designer who has ever skydived into a show; he may well be the only one to have ridden a motorcycle onto his catwalk. He is also known for his A-list celebrity clientele; the first fashion designer to host his fashion show live on MTV; was featured on Canada's only national weekly current affairs magazine for News & Entertainment, Macleans; was discussed favourably by Pariz Hilton, known celebrity gossip blogger; worked closely with the Jackson family and was invited to Joe Jackson's birthday party; had his fashion ware featured on Canadian artist Massari's music video, 'Be Easy'; and finally is currently collaborating with Hip-Hop CEO Kevin Black of World Star Hip-Hop.
###