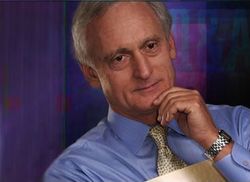 Churches are a special gathering place, with built-in support systems and an important source of information for congregations, particularly in the African-American community
Atlanta, GA (PRWEB) September 2, 2008
As part of the TRIM (TRIM - Teach. Reach. Inform Men.) Public Service Campaign, Radiotherapy Clinics of Georgia (RCOG), The DeKalb County Board of Health and Oakhurst Medical Centers are teaming up with four DeKalb County churches to host FREE-of-charge Prostate Cancer Screenings during September's Prostate Cancer Awareness Month.
This is the second year Radiotherapy Clinics of Georgia (RCOG) is offering this community service initiative. According to Colleen Simon, President and CEO of Decatur-headquartered RCOG, statistics show that men in DeKalb County have a higher rate of prostate cancer than men in other counties in the region as well as Georgia as a whole. Additionally, the death rate from prostate cancer for DeKalb County residents is significantly higher for black men, as they are afflicted by this disease earlier and more aggressively than any other race.
"Churches are a special gathering place, with built-in support systems and an important source of information for congregations, particularly in the African-American community," states Ms. Simon. "Churches are also a comfortable and secure setting to share information many men avoid talking about, including information about prostate cancer. What better place than a church to help educate men about this disease and at the same time inform them about free-of-charge prostate cancer screenings that could save their lives."
Free-of-Charge PSA Screenings During Prostate Cancer Month:
RCOG, The DeKalb Board of Health and Oakhurst Medical Centers are offering free-of-charge PSA testing for men 40 years of age and older at four host churches in DeKalb County during September's Prostate Cancer Awareness Month. No appointments are needed for these screenings. Locations and screening times are as follows:
Saturday,September 6, 2008
11:00 a.m. - 2:00 p.m.
New Piney Grove Missionary Baptist Church
2580 Snapfinger Road
Decatur, GA 30034
Saturday,September 13, 2008
11:00 a.m. - 2:00 p.m.
St. Philip A.M.E. Church
240 Candler Road, S.E.
Atlanta, GA 30317
Saturday,September 20, 2008
11:00 a.m. - 2:00 p.m.
Beulah Missionary Baptist Church
2340 Clifton Springs Road
Decatur, GA 30034
Saturday,September 27, 2008
11:00 a.m. - 2:00 p.m.
Berean Christian Church
2201 Young Road
Stone Mountain, GA 30088
Prostate Screening A Simple Blood Test:
A simple, annual blood test called PSA (prostate specific antigen), which detects the presence of protein levels made by the prostate cells, is recommended at age 40 for African-American men and men with a family history of this disease. Screening should begin at age 50 for all other men.
"Screening for prostate cancer involves a simple blood test," says Ms. Simon. "Generating awareness of how important this blood test is may lead to early detection, the key for giving a man the best chance to be cured of this disease. RCOG is one of the country's largest and oldest centers for cancer treatment and research," says Ms. Simon, explaining why the clinic is endorsing this program. Over the last 25 years, RCOG's team of physicians, under the direction of the company's Director of Cancer Treatment and Research and Medical Director Dr. Frank Critz, has treated more than 11,000 men with prostate cancer using a procedure called ProstRcision.
"RCOG has one of the highest documented cure rates in the world for prostate cancer and with the fewest of complications," says Simon. "The more men we can help educate, the better their chances for a long, healthy life."
For more information about the TRIM Initiative on Prostate Cancer and the free-of-charge PSA screenings, contact Debbie Wright, R.N., RCOG Community Outreach Coordinator, (404) 633-5606, Ext. 197.
About Radiotherapy Clinics of Georgia:
Radiotherapy Clinics of Georgia is the exclusive source for ProstRcision. Each year hundreds of men travel to Atlanta, Ga. to receive prostate cancer treatment from RCOG. Dr. Frank Critz, is founder and medical director of Radiotherapy Clinics of Georgia and a leading authority on prostate cancer treatment. Dr. Critz is also director of Prostate Cancer Research at RCOG and has authored 71 peer-reviewed research papers that have been presented and/or published in major medical meetings or medical journals on prostate cancer.
# # #