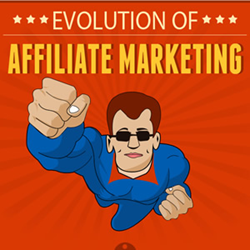 Affiliate Marketing has been predicted to become a $4.5 Billion industry by 2016.
Noida, India (PRWEB) June 19, 2013
As of 2012, over 60% authors on the internet use "affiliate marketing" as a means to monetize their blog.
Industry experts predict the Affiliate Marketing industry to touch $4.5 Billion by 2016.
Dekh has released a new infographic, which shows the timeline of the evolution of affiliate marketing since 1994 and the latest industry trends.
Dekh is not new to infographics. One of their most popular infographics is called "how to start an affiliate program" – which is a massive 51 point checklist.
Affiliate marketing is a form of online marketing in which a merchant pays commissions to affiliates for driving sales/leads to their product.
It is synonymous with the term "performance marketing" - it's the only marketing strategy in which businesses cannot have a negative ROI because merchants only pay affiliates when they perform.
Here are some key pointers from the infographic:

Banners, product reviews, in-context links, and sponsored posts have been the top - monetization techniques utilized by blogs.
SEO is the leading form of advertising for affiliates.
73% affiliate marketers are male. 58% of them are college students.
Linkshare, Commission Junction, Shareasale are the biggest affiliate networks.
Only 13% affiliates prefer to have their commissions paid out via Paypal.