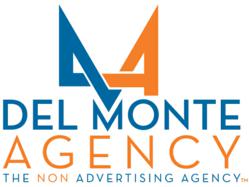 The present model is becoming less effective.
Minneapolis, MN (PRWEB) September 27, 2012
Fast approaching for Del Monte Agency is their first-year milestone, Sept 25, since the introduction of the concept they call "non-advertising," a revolutionary approach to marketing, advertising, and revenue growth. This boutique-sized ad agency seeks to turn the tables on their larger competitors, and Madison Avenue, promoting a simple concept that consumers are not passive and advertising is not just about selling media.
"This month marks a significant milestone in our history," states Bryan Del Monte, the agency's President. "We set forth a new idea in a crowded industry, based on the belief that businesses are looking for something that will allow them to be more productive with their advertising and marketing budgets. We believe that the advertising industry has become stale. Every agency in town, big or small, sells the same product – clever, creative, and expensive media. Clients seem to be agreeing with us that the future does not lie in agencies giving them 'more cow bell'," he concludes.
Del Monte Agency is unlike any advertising agency, combining the talents and disciplines of fine artists, cinematography, politics, anthropology, sociology, public relations, communications, marketing, statistics, econometrics, and yes, even advertising. They have worked with companies of various sizes and projects of varying complexity – all with the same goal, to increase market share and revenue. Del Monte Agency focuses on ways to bring customers and brands together, and make that connection as strong as possible. They develop brand communities, which share a system of beliefs that not only resonates with existing brand loyalists, but also motivates them to become brand advocates.
"Unfortunately, the idea of 'brand' has become a buzzword that means very little to most companies, marketing experts, and people in our industry," said Del Monte. "It is unfortunate because as media becomes more complex, as the technology to develop broadcast-quality advertising becomes cheaper, agencies and their clients are staring at each other and going, 'Well now what?' We know what's next – it's the idea of non-advertising."
Bryan Del Monte summarized the change this way, "With the advent of television, the great agencies we look at now, that are the titans, created an entirely new way to sell products. People could be conditioned to believe that a beer tastes great, or is less filling, that one brand of peanut butter is really better than another, or that you shouldn't squeeze the Charmin. Today, that is entirely still possible. But the reality, also, is that a couple of kids educated in film can make a Doritos advertisement that runs in the Super Bowl." Del Monte concludes that, "agencies have seen dwindling profits resulting in massive industry consolidation for almost two decades. It doesn't take a genius to ask why. The present model is becoming less effective."
Thus, Del Monte Agency attempts to utilize non-advertising to help its clients not just gain market share and increase revenue, but to inoculate their clients from increasing assaults by competitors in their advertising spend. "Non-advertising can make it very difficult for a competitor to displace a brand in the mind of a consumer once established. Just like you don't stop talking to your spouse if someone attractive walks into the room at a party, consumers hesitate to abandon brands that connect with them on a deep level beyond something clever and superficial," stated Del Monte. The power to make that connection a repeatable process is what Del Monte Agency is gambling will be the future of the industry.
The Agency walks its talk – it looks for ways to be connected to the community. "We believe it's important to be engaged with the business community. It would be silly of us to recommend to our clients that they need to connect, and then not do it ourselves," said Del Monte. Del Monte Agency is a Centennial Sponsor of the Better Business Bureau of Minnesota, and has participated in programs on ethics in advertising. The Agency conducts volunteer outreach activities, and as a company has sponsored days to help charities. The Agency provides time off for employees to engage in volunteer activities. The principals have also worked with area non-profits to maximize their marketing budgets.
Additionally, the Agency's principals are actively sought for analysis in major media. Del Monte Agency is also an active sponsor for the Minneapolis/St Paul Business Journal events and will be keynote speakers at the Social Media Strategies Summit in Minneapolis on October 3rd and 4th. "We're out to spread the word, to put our competitors on notice, and to tell companies out there that they don't have to just keep doing what they're doing, and expect a different result. There is a way to reach your customer, effectively, and build true brand loyalty resulting in a lifelong customer. That way is non-advertising."
For more information, or to schedule an initial consult for your company, please contact: Kim Maxon, Del Monte Agency, (800) 738-1989. Visit their website at http://www.delmonteagency.com.