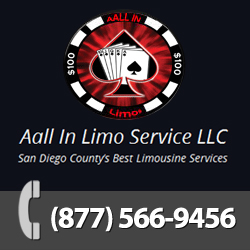 We are proud to sustain our community and we hope to inspire others to do the same.
San Diego, CA (PRWEB) May 29, 2013
San Diego's premiere limousine service company Aall in Limo supported along the years the San Diego community with donations for limousine services and monetary donations for different programs. They donated to schools, hospitals and organizations within the San Diego community. This Friday, 31st of May 2013 Aall In Limo is donating to Del Norte High School's football program.
The event will take place at the Maderas Golf Club, which is San Diego's top rated golf course. There are four sponsorship opportunities available sponsors can choose from: becoming an event sponsor, donating an auction item, donating items for the golfer's gift bags and making a cash donation.
Owner and operator at Aall In Limo, Mike Reifeiss will donate cash at the time of the event.
"We are proud to support our community and we hope to inspire others to do the same. Helping our football team will lead to high standard achievements." – says Mike Reifeiss.
Respond to the invitation and join this cause! The football team of Del Norte High School needs funds and support to continue its program.
About Mike Reifeiss and Aall In Limo
Mike Reifeiss is the founder and owner of Aall in Limo, SanDiego's award winning limousine service company. He received his business degree in 2001 from SDSU and founded the company in 2005.
Aall In Limo is specializing in providing professional customer service at affordable rates. Aall In Limo services include transportation to weddings, high school dances, concerts, business meeting and other special occasions. Aall In Limo also offers wine tasting tours in Temecula Valley Wine Country and brew tours to San Diego's best breweries. Call 1-858-336-1894 to book your limo today!
# # #