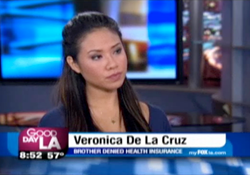 This is a real story. I want everyone out there to know it can happen to them
(PRWEB) October 13, 2009
New York, NY Television journalist and former CNN anchor Veronica De La Cruz has been telling the tale of her brother Eric's tragic battle against insurance red tape to anyone who would listen. And, with recent appearances on Fox's Good Day LA and in the November issue of Glamour magazine, that message is getting noticeably louder.
Speaking to Good Day LA hosts Steve Edwards Jillian Reynolds and Dorothy Lucey, De La Cruz shared the emotional story of how her brother, Eric De La Cruz, was denied coverage by private insurers because his diagnosis of cardiomyopathy was considered a pre-existing condition. Despite an extraordinary awareness and fund-raising campaign staged by his sister, Eric passed away July 4, 2009 while awaiting a transplant. De La Cruz also detailed the impact that her brother's death has had on her family and how her grief has only fueled her determination to fight on in her brother's honor.
"This is a real story. I want everyone out there to know it can happen to them," De La Cruz stated. "What's most important to me is that everyone with pre-existing medical conditions can't be denied or discriminated against. This is a basic human right. Everyone should have access to health care."
De La Cruz, a former CNN anchor and internet correspondent who is now with the TV Guide Network, is also featured in the November issue of Glamour magazine, where she discusses how she is honoring her late brother with her public advocacy of health care reform. In the article, "What Big Sister's Love Can Do," De La Cruz details the obstacles which she and her brother faced during his illness and how the pending health care reform legislation may remove many of them.
"I promised him I would do everything I could so that no one else would have to suffer the way he did," she told the magazine. "I want every single member of Congress to hear his story. I won't stop pushing for action until not one more patient dies while waiting for health care."
Veronica's full interview on Good Day LA is available at My Fox LA's website and the entire Glamour article is available at the We Love Eric website.
In an effort to honor her late brother's memory, De La Cruz is currently scheduled to lobby for health care reform at other upcoming events around the country. Please visit http://www.weloveeric.com for more information on her campaign for health care reform.
###