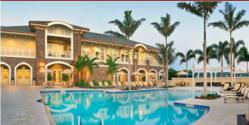 "No one else will be able to compete with Delaire."
Delray Beach, FL (PRWEB) June 29, 2011
Delaire Country Club, a private community of 326 single-family homes in Delray Beach, Fla., is in the midst of a $21 million improvement project that is transforming the Club with a fresh architectural style and amenities specifically designed with a new generation of country club buyers in mind.
"Delaire Country Club is experiencing a renaissance," says Trent Squire, the Club's general manager. "We're building a spectacular Clubhouse with all-new amenities and enhancing the whole community with a distinctive new look. That's why our residents already know that Delaire is the ideal country club in the Boca/Delray area."
Sitting on 340 acres in uber-trendy Delray Beach, just minutes away from Boca Raton and a short drive to Palm Beach, Fort Lauderdale and Miami, Delaire offers residents and guests a first-class, casually elegant country club experience where every homesite enjoys views of rolling greens, fairways or lakes.
Each lot at Delaire is a single-family lot. There are no zero-lot lines or condominiums.
Approved by a forward-thinking governing board and membership with vision, Delaire's club improvement program was designed to appeal to a new generation of country club members, who have a stronger focus on fitness. The Club's award-winning Fitness and Tennis Center, which opened in October to rave reviews, boasts a 16,000-square-foot Fitness Center—five times as large as the facility it replaced--with the latest in equipment and technology.
The Fitness and Tennis Center also includes eight Har-Tru courts, an observation deck, a stadium court and Pro Shop; a spectacular resort-style pool; and a children's playground.
A brand new 43,000-square-foot Clubhouse, slated to open this fall, will become the focal point for Delaire's members and guests, with a bold new Mid-Atlantic Traditional style, a central rotunda, lavish main dining room, cocktail lounge, members grill, golf pro shop, card rooms and an outdoor dining area overlooking the lush golf course. With clean architectural lines, the new clubhouse will have extensive stonework, a slate-style roof, copper accents and "green" design elements throughout—a stark contrast from the usual Spanish style, stucco buildings so commonly found in South Florida.
"This club is going to be spectacular," says Bill McMahon, AIA, of McMahon Group, the club planner for the project. "No one else will be able to compete with Delaire."
With all that Delaire has to offer, now and in the future, there's no better time to capitalize on the real estate market and snap up a great deal on a single-family home in this highly-desirable community.
"Word is starting to get out about everything we're doing at Delaire," says Squire. "That's why savvy homebuyers are getting in—now—on some great deals. Once our new Clubhouse opens in the fall and people see how spectacular it is, I predict that prices will only go up as our community becomes the most sought-after country club address in Palm Beach County."
About Delaire Country Club
Delaire Country Club is a private community of 326 single-family homes located on Military Trail along the Boca Raton-Delray Beach line. Delaire offers a first-class, casually elegant country club experience, featuring a 27-hole Joe Lee championship golf course with walk-on golf (no tee times), a full-service tennis facility with eight Har-Tru courts and world-class dining. The community recently opened a new state-of-the-art Fitness and Tennis Center, with the latest in equipment and technology as well as Certified Fitness Trainers. Delaire is also in the process of building a new Clubhouse with the utmost in amenities, from a lavish dining room to a lounge, card rooms and meeting facilities. To learn more about the unique lifestyle offered at Delaire Country Club, contact Trent Squire, General Manager, at 561-499-9090 or visit http://www.Delaire.org.
###