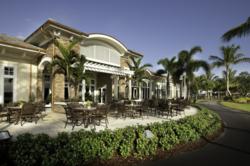 We wanted to secure our spot as part of the Delaire community so we traded our non-resident membership, to become resident members. It's the best decision we've made…now we get to enjoy Delaire as not only our golf club, but our home
Delray Beach, Florida (PRWEB) October 23, 2012
For the past three years Delaire Country Club has maintained an active waiting list for their non-resident non-equity member program which traditionally accepted a maximum of 50 members. It is not surprising that Delaire Country Club, a Platinum Club designee, continues to generate interest in their club. Country club enthusiasts are quickly discovering that Delaire is set apart by its 27 holes of immaculate golf with no tee times, its state-of-the-art fitness center, the superb cuisine, the welcoming environment and much, much more.
"The moment I toured Delaire, I knew there was no club in the area that would come close; I've been a non-resident member since the program's inception and I have never regretted my decision," says Joe Verne. Despite recent economic conditions, Delaire has not met the same fate as other area clubs. It isn't luck, and it most certainly isn't a reduction or discount in membership prices. The desire to be a part of the Delaire lifestyle is overwhelming and the value in the membership is easily evident.
"We wanted to secure our spot as part of the Delaire community so we traded our non-resident membership, to become resident members. It's the best decision we've made… now we get to enjoy Delaire as not only our golf club, but our home," says Hank Green, a Delaire member as of January 2010. They aren't the only ones to have felt this way; non-resident members are finding they love Delaire so much they just don't want to leave.
About Delaire Country Club:
Delaire Country Club is a private community of 324 single-family homes located around a superior 27-championship hole, Joe Lee designed golf course (with no tee times). Delaire is ideally situated in Delray Beach near Boca Raton, Florida. Recent club improvements include a brand new clubhouse with an outstanding list of amenities, an award-winning fitness center, with multi-faceted options for members to improve their health and their game, a new pool, and children's play area. Delaire is ranked among the top 3% of all clubs in the nation and is proud to be honored as a 2012 Platinum Club of America.
To learn more about the lifestyle available at Delaire Country Club, contact Executive Coordinator Liz Shaw at 561-499-9090. To browse available home listings please visit: http://delaire.org/re_landing.php