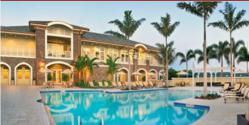 The Grand Opening of our magnificent new Clubhouse marks the official completion of a very far reaching and ambitious undertaking by Delaire's Board of Governors and the membership
Delray Beach, Florida (PRWEB) November 09, 2011
Delaire Country Club, one of Palm Beach County's most desirable residential communities, is getting ready to celebrate the completion of its expansion project with the Grand Opening of its totally new 47,000 sq. ft. Clubhouse.
"The Grand Opening of our magnificent new Clubhouse marks the official completion of a very far reaching and ambitious undertaking by Delaire's Board of Governors and the membership," says General Manager Trent Squire. "The Board's desire to maintain and update Delaire's high standards has allowed us to create the finest country club facility in South Florida today."
The elegant new Clubhouse now joins the already completed state-of-the-art Tennis and Fitness Center, pool, kids' play area, new entryway and other new amenities. The project includes an integrated communications system linking the recreational complex as well as offering wireless internet access for all members. The new facility is designed to further enhance Delaire members' well known enjoyment of "walk on golf" with no tee times, on the 27 holes of its scenic Joe Lee-designed golf course.
Designed by the architectural firm of Currie Sowards Aguila Architects of Delray Beach, with interiors by Image Design Inc. of Atlanta, GA, the spacious Clubhouse is transitional in style with an eye to updated casual luxury. "Delaire caters to a sophisticated membership with a wide range of age levels," notes Sandra Berg, Design Director of the interior design firm. "Our use of color in the Clubhouse ranges from palest aqua in the Ladies Club Room and Dressing Rooms to deeper tones of celadon green and sage green in the Mens Club Room and the restaurant facilities. While our overall design is transitional in nature, we have utilized both classic and contemporary themes in the lighting fixtures, the woodwork finishes, and the art work," she says. The general contractor on the impressive project is Kaufman Lynn Construction of Boca Raton.
The end result is a stunning new Clubhouse that offers members of all ages and interests a seamless introduction to the finest amenities and luxuries available in South Florida country club communities today.
Delaire Country Club is an upscale private community of 326 single-family homes conveniently located on the border of Boca Raton and Delray Beach, Florida. "This is an excellent time to consider purchasing a home in this outstanding community," notes General Manager Squire. "Delaire offers its residents a very unique lifestyle, one that is unmatched by any other development in the area." For those looking for the best in Florida living, Delaire with all its newly completed amenities, is the perfect place to call home.
To learn more about the unique lifestyle offered at Delaire Country Club, contact Liz Shaw, Executive Coordinator, at 561-499-9090, or visit http://www.Delaire.org.
###