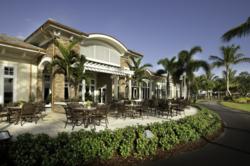 We understood how members' necessities change throughout the years and how important it is for a club to meet and even exceed the expectations of its members on a consistent basis
Delray Beach, FL (PRWEB) July 17, 2012
Delaire Country Club is a private community of 324 single-family homes located around outstanding golf in Delray Beach near Boca Raton. Since its inception, Delaire has had a reputation for offering a superior, low-density golf experience and an outstanding level of service. Over time, however, members and leadership decided that if they were to maintain Delaire's position as a leader among Boca and Delray country clubs, they had to invest in a total renewal of their club.
"We understood how members' necessities change throughout the years and how important it is for a club to meet and even exceed the expectations of its members on a consistent basis," says Trent Squire, General Manager of Delaire Country Club. Delaire set out to enhance the membership experience by increasing the already extensive list of amenities and services and by remaking its facilities.
Golfers have always been attracted to Delaire because the club's low density makes it possible to play golf on its 27 championship holes with no tee times. With a new golf shop and three professionals at its helm, the golf program is now better than ever.
Health and fitness have become an essential part of daily life, and Delaire was able to adapt by creating a new Fitness and Tennis Center. The new fitness center features the latest models of cardiovascular, resistance and cross training equipment, free weights, stretch mats, and commercial-free satellite radio. In addition, members can sign up for a wide range of group fitness classes including yoga, Pilates, Zumba and much more.
The steps taken to stay ahead of changing market trends have paid off; with new and expanded opportunities. With more country club buyers choosing Delaire as their new home, Delaire created its builder program. The program allows prospective homebuyers to easily find custom homebuilders specializing in construction at Delaire Country Club.
Delaire's rebirth extends to its marketing initiatives. "It isn't only about targeting new generations of members with expanded services and new facilities, but also reaching them in new ways," says Mr. Squire. It is now easy to keep up with the latest Delaire news by reading the Delaire blog or participating on the club's Facebook page.
Delaire's "forward-thinking" approach created an atmosphere that is more energized, with new club programs and activities. The club successfully secured its positioning by creating the all-new Delaire.
Delaire Country Club is a private community of 324 single-family homes located around outstanding golf in Delray Beach near Boca Raton. Delaire's improvements include all new Fitness Center with multi-faceted options for members to improve their health and their game. To learn more about the Delaire Country Club lifestyle, contact Executive Coordinator Liz Shaw at 561-499-9090, or visit http://www.Delaire.org.