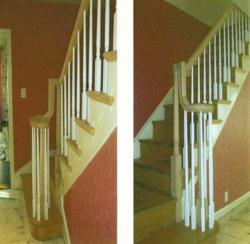 Philadelphia, PA (PRWEB) March 01, 2012
Today, Villone's Carpentry announced tips to help homeowners better understand how to transform their stair rails into a masterpiece.
A stair rail is often the first thing visitors see when they step into a foyer and can stand out as a centerpiece around which the rest of the home flows. Today's trend is moving away from carpeted stairs and once again homeowners are choosing the elegant natural beauty of solid hardwood staircases.
"Wooden stair railing adds a classy, elegant touch to any home," says Don Villone, owner of Villone Carpentry. "Homeowners have a wide variety of wood types to choose from including oak, maple, cherry and much more. The trend is to keep wood looking as natural as possible, enhancing its natural beauty with a clear or matching stain."
Here are a few tips to keep in mind:
1. The best general contractors who specialize in carpentry use only the finest 100 percent solid hardwoods in all the components.
2. Give stair components the same attention to detail as a beautiful piece of furniture. Balusters (spindles) and handrails should be carefully finished to bring out the best qualities of the wood.
3. Match the staircase to the style and décor of the home. If a traditional wooden stair rail does not match the décor, consider decorative wrought iron balusters that can be coupled with a metal or wooden handrail.
4. A newel is the "anchor" post, the main column that supports the handrail and can be boxy, round, small, or large. An interesting newel can change the look and feel of a staircase.
5. Choose a design that is safe for the family, particularly if small children or elderly are living in the home.
Serving the Delaware Valley since 1982, Villone Carpentry has 40 years experience and can help a homeowner make a staircase into a decorative and functional part of their home. Owner Don Villone is a Master carpenter and specializes in interior stairs, interior railings, kitchen remodeling, additions, finished basements and fine carpentry.
For more information about this company that "builds for a lifetime," please visit their website http://www.villonescarpentry.com.
About Villone Carpentry
Villone's Carpentry has been doing business in the Delaware Valley for over 28 years. They specialize in residential remodeling, expansions, interior stairs, interior railings, kitchens and fine carpentry. A Master carpenter with over 35 years experience, owner Don Villone, stays on the job from start to finish and guarantees 100% satisfaction. They serve the Delaware Valley and Cape May County including Springfield, Broomall, Media, Havertown, Radnor, and Goshen areas.
# # #