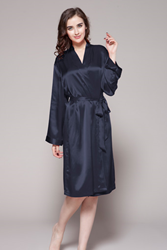 All our products are streamlined into a system that checks and double checks quality, from sourcing to delivery.
Houston, TX (PRWEB) March 07, 2014
Lilysilk is a leading manufacturer of silk bedding products, and it has recently introduced its new technique in making silk pajamas and robes. Today, the company is introducing these new styles of pajama sets and bathrobes to ladies and gentlemen worldwide. All these new pajama items are made from 22 momme mulberry silk.
At Lilysilk.com, customers can find more than 30 items of elegant silk robes easily, which are popular for their high quality materials and the hand-made stitching. They are available in 6 gorgeous colors such as navy blue, white and claret. Mike Lee, CEO of the company, is excited when talking about these new products, saying, "Most silk pajamas, robes and nightgowns in the current market are manufactured from 19 momme silk fabrics, while we make our own silk sleepwear with 22 momme mulberry silk fabrics which are much thicker, and smoother and more endurable."
He continued, "We always put quality as priority of our business. All our products are streamlined into a system that checks and double checks quality, from sourcing to delivery. And don't worry about the prices. We promise to offer the competitive prices for all customers worldwide. The prices you see on our website are what you shall pay for the goods. No hidden fees."
In addition, the company offers fast and free delivery by UPS or FEDEX worldwide. One customer named William said, "I placed my order from Lilysilk a few days ago, and I receive it today. Thank you for the fast delivery!"
It is a reliable website which offers 45-day no-quibble money-back return policy. Customers also could request swatches for free at their online store, only emailing to sales(at)lilysilk(dot)com with detailed requests. And more information about the store and its products can be accessed at: http://www.lilysilk.com/ or its Facebook page: https://www.facebook.com/LuxurySilk