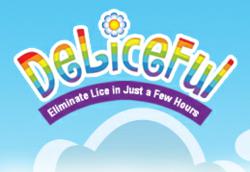 I am excited to expand Shepherd's 'treat once and do it right the first time' lice treatment philosophy to parents in Nassau County
Great Neck, New York (PRWEB) November 14, 2011
"Mom, my head is itchy!" This simple phrase strikes fear in the heart of Long Island parents. Head Lice is an issue that has plagued humanity since the dawn of time, but today, families can take comfort in the knowledge that there is a "DeLiceful" solution for dealing with these pesky, persistent critters. Kathy Zappulla remembers well the feelings of helplessness and embarrassment when the school nurse called to tell her that head lice had found a home in her daughter's hair. "I never thought it could happen to me, to my family," Kathy commented as she revisited that stressful day.
Kathy is the owner of DeLiceful, a Hauppauge lice removal salon that uses all-natural organic products, combined with the Shepherd Method™ of strand-by-strand lice removal, to effectively eliminate lice and nits with guaranteed results. For the past two years, Kathy has been at the forefront of the battle against lice, putting the Shepherd Method™ to work for hundreds of Long Island families. Now, in an effort to bring relief to more people dealing with head lice, DeLiceful is excited to announce the Grand Opening of their 2nd Location in Great Neck, NY.
"Without a doubt the Shepherd Method™ is the ultimate way to eliminate head lice. In addition to providing the most thorough process around it also promotes the use of safe, non-toxic products. I am excited to expand Shepherd's 'treat once and do it right the first time' philosophy to parents in Nassau County" Ms. Zappulla shared.
DeLiceful, a top of the line kid-friendly salon specializing in the detection and removal of head lice using non-toxic products, recently signed a lease for the rear cottage at 216 Lakeville Rd, in Great Neck, NY. This second lice treatment facility, a colorful recreation of the successful Hauppauge location, features 4 comfortable styling chairs, as well as a flat screen TV, dozens of movies, munchies, Wi-fi and iPads to ease the waiting time. Trained technicians utilizing the Shepherd Method™ staff both locations, providing guaranteed results in a salon style setting that parents and children love. DeLiceful also has a line of their own safe, pesticide-free products that prevent the re-infestation of lice or help parents treat the problem themselves.
Located in Hauppauge, and now Great Neck, Kathy is ready to turn your head lice problem into a DeLiceful experience. So if you find yourself at the center of a scary and embarrassing lice situation, DeLiceful would be happy to "Delice" you! Contact Kathy today for more information about DeLiceful's professional, non-toxic, guaranteed lice removal service. Take comfort in the fact that DeLiceful can make your whole family lice free in just a few hours, whether you live in Suffolk or Nassau Counties.
The Origin Of DeLiceful
As a busy working mother of two, Kathy Zappulla remembers the panic she felt when she received the dreaded phone call from her child's school nurse. Head lice had taken up housekeeping in her daughter's hair."
Like many unsuspecting families she quickly realized that, regardless of hygiene or age, a case of head lice could happen to anyone; and like most parents she instantly became a student of head lice 101. "I read everything I could get my hands on and asked lots of questions" Ms. Zappulla explained. "I learned that while they are no bigger than a sesame seed they can quickly spread from head to head. I was most frustrated to learn that the problem was perpetuated by the fact that lice-killing medicines are becoming less effective and more harmful to our children's health."
Ms. Zappulla's inquisitive nature paid off, scoring big time when she located a professional service to help eliminate her children's head lice problem; A service she now shares with parents in her area. "Although it was a bit of a drive to get professional help, it was well worth it. But I also realized that not everyone could do that. I thought about how grateful I was to receive help and I knew I needed to find a way to help others too."
Ms. Zappulla spent the next couple of months putting her plans into motion. She traveled to South Florida where she participated in an intensive hands-on training program. Now trained and certified in the Shepherd Method™ of strand by strand nit removal, Ms. Zappulla started her "DeLiceful" lice removal service in Hauppauge, NY.
Raising community awareness about lice and how resistant they are to over-the-counter products is the goal of DeLiceful as they strive to help parents in their community. "Too much time and emphasis is spent cleaning the house and there is still a lot of negative stigma and myths associated with lice. Our goal is to erase them, and replace them with hard facts" Ms. Zappulla stated. "Our mission is to make the community, schools and camps aware of updated lice information as well as offering hands on help for those who need it."
What Parents Are Saying About DeLiceful
I heard Kathy of DeLiceful speak at a PTA meeting and she really knew her facts about lice. So when my son came home from camp with head lice, I knew who to call immediately. Kathy and her staff got us an appointment right away. I loved her salon. I loved her staff. Thanks so much.
Laura of Northport, NY
August 8, 2011
After unsuccessfully attempting to treat my 2 daughters' hair own my own, I found DeLiceful online and decided to take the two-hour drive from Pennsylvania. No other places in my area offered the thorough services that DeLiceful provided. The patience and expertise at DeLiceful was definitely worth the drive. Now I have peace of mind!! Thanks, DeLiceful.
Danielle of Pennsylvania
September 6, 2011
My daughter has had lice 3 times. The first time she got it I was a complete basket case and spent a desperate summer doing all the wrong things to get rid of the lice. We almost ended up shaving our kindergartener's head before the first day of school because we were at our wits end. The 2nd time, our entire family got it - but this time, I found DeLiceful, and what a difference! If my daughter comes home with lice again, I'm going straight to DeLiceful.
Maria B. of Huntington, NY
March 3, 2011
DeLiceful was amazing! They really make a scary situation DeLiceful. I was a basket case until I brought my daughter to them. Kathy of DeLiceful was so calming and reassuring. I totally would recommend DeLiceful to everyone.
Mary L. of Hauppauge
August 5, 2011
Connect With DeLiceful
Twitter: @Deliceful
Facebook
Google+
Manta.com - Great Neck
Manta.Com - Hauppauge
Merchant Circle
###