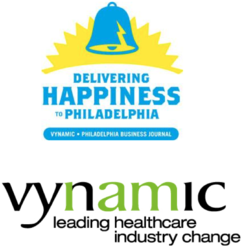 Philadelphia, PA (PRWEB) November 30, 2012
The Philadelphia Business Journal (PBJ) and Vynamic, recently named one of PBJ's "best places to work," together will host the 2012 Philadelphia Business Journal Small Business Expo. The expo, "Delivering Happiness to Philadelphia," will be held on Tuesday, December 11, 2012 at the Pennsylvania Convention Center.
Delivering happiness at work and in the community is a growing yet not fully understood phenomenon. For the first time, the Philadelphia Business Journal and Vynamic will bring together a distinguished group of leaders to discuss the role of happiness in our workplace and the Philadelphia region.
The event will include opening remarks from former Governor Ed Rendell, a presentation from CEO of Delivering Happiness, Jenn Lim, and panel participation from Philadelphia 76ers CEO Adam Aron, Founder & CEO of Vynamic, Dan Calista, and The Wharton School "Dean of Happiness," Kembrel Jones. Following the panel, Jenn Lim will be available to sign copies of Delivering Happiness and the business expo portion of the day will continue until 5 PM.
Dan Calista said, "We are thrilled to be working with the Philadelphia Business Journal to design a conference that will inspire businesses and community leaders to incorporate happiness as a competitive advantage."
Keynotes and panelists not to miss are:

Jenn Lim has worked with Zappos and is CEO of Delivering Happiness, a company that she and Tony Hsieh, CEO of Zappos, created in 2010 to encourage and inspire happiness in the work place, the community, and in everyday life. Based on the principles outlined the bestseller Delivering Happiness, launched by Jenn Lim and authored by Tony Hsieh, the company advocates happiness as a model for both business and life. With the success of the book and the spread of the Delivering Happiness movement, Jenn Lim has spoken at universities, organizations, and companies and provided inspiration on how they can create organizational cultures based on happiness and still make a profit.
Ed Rendell, served as the 45th governor of Pennsylvania between 2003 and 2011. Since his time as governor, Ed Rendell has been an active participant in the political arena as a political analyst for NBCNews and MSNBC. Ed Rendell is a prominent figure in the Democratic Party and is frequently sought for his political expertise.
Dan Calista is Founder & CEO of Vynamic, the largest Philadelphia management consulting firm that focuses exclusively on the healthcare industry. To really know Vynamic, is to know what the "V" stands for - Values and Vitality. Dan Calista is passionate about creating truly healthy work environments and prioritizes culture as a business differentiator. As such, Dan Calista is most proud of being recognized by the Philadelphia Business Journal at the #1 Medium-size Best Place to Work.
Adam Aron, CEO of the Philadelphia 76ers since fall 2011, manages marketing and investing for the team with his top priority being providing a desirable and inspiring experience for every kind of fan. Prior to coming to the 76ers, Aron held multiple CEO titles, including World Leisure Partners, Inc., Vail Resorts Inc., Starwood Hotels and Resorts Worldwide, Inc.
For more information, please visit: http://www.pbjexpo.com
###
Media registration is suggested. Please contact Christina Zipf at christina (at) jacobsonstrategic (dot) com