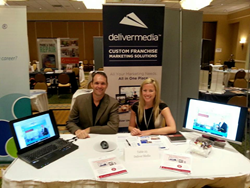 "The Murphy Conference was a great learning experience for us to dig deep into Murphy's brand and learn more about their marketing needs." - Michael Huth, Deliver Media CIO
Tampa, FL (PRWEB) March 20, 2015
On March 10-12th, 2015, Deliver Media attended the Murphy Educational Conference as a sponsor in Clearwater Beach, Florida, after recently partnering with Murphy Business and Financial Corporation, LLC. Alongside Deliver Media, there were over 120 Murphy business brokers from across the United States and Canada that attended the conference.
The marketing company has recently aligned with Murphy Business and Financial Corporation, LLC. One of the sales tools Deliver Media has developed for Murphy Business is an interactive Digital Brochure, which engages prospects in a meaningful, personal way while maintaining brand consistency across each Murphy location. It is designed to provide a memorable first impression and build credibility, while offering the function to customize each viewer's experience.
This conference was a significant opportunity for Deliver Media to gain further insight into Murphy's brand and culture. The company was able to meet with the business brokers on a one on one basis, learn more about the daily operations of brokers, and find out what the needs were of different locations and how to best meet them and help the company achieve growth and success.
About Deliver Media:
Deliver Media is a Tampa-based agency providing cutting edge integrated marketing services. The company offers direct mail campaigns, website development, search engine optimization (SEO), content development, video marketing, social media management, and digital brochure services.
About Murphy Business and Financial Corporation:
Murphy Business & Financial Corporation LLC is a full-service business brokerage firm facilitating business sales, purchases, consulting, valuations, mergers and acquisitions. Closing deals at a higher ratio than the business brokerage industry average, several accolades have been bestowed upon the company. Murphy is seeking ambitious individuals to expand its presence in prime markets.