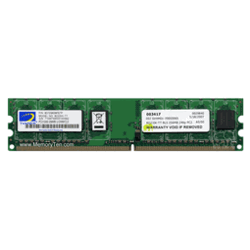 Memory X provides Dell Inspiron 530s DDR2 memory kit with assertion of high technology and reliability.
CA, USA (PRWEB) June 24, 2013
Memory X has been supplying memory extension devices and drives since quite a long time. The company provides a wide variety of memory devices, including flash memory, secure digital memory, smart media, XD-picture card, USB pen drives, adapters, readers, etc.
A spokesperson at Memory X says, "We acknowledge the unique necessities of consumers. We have organized a wide range of memory drives and devices, among which a customer can easily choose a suitable one that is compatible with his system". Memory X provides a convenient scanning system at its site via which, a user can check the memory capacity and compatibility of his device. Memory X provides a variety of products for educational purposes.
Memory X has been an active online dealer of memory devices and drives for over a decade. The company supplies such products to educational organizations and study centers like schools, universities, colleges, non-profit and private schools, elementary and high schools. Today, education is quite dependant on technology. Computers and other digital devices form a huge part of the modern educational aspect.
Memory X offers automatic net 30 terms to all educational centers in US. The company grants private schools as corporate entities and organizes essential aspects of their IT departments accordingly. A spokesperson at Memory X says, "We utilize high end technology in all our products. Today technology is the mode of advancement, which is not only confined to offices, corporations but has also spread to educational organizations and other entities. Our quality products are efficient to abide by the technical and digital necessities of such entities".
Memory X provides memory drives and devices of different brands. The company has organized an affordable range of products. It claims to be a direct supplier and hence, procuring digital devices from Memory X tends to be a beneficial option for consumers as they need not pay additional costs charged by distributors, resellers and other middleman. Memory X updates it products database periodically and incorporates newer devices frequently. A Memory X moderator says, "Customers forward different requests to us on the type of products they are seeking and we definitely pay heed to such requests and upgrade our product base accordingly".
About Memory X
Memory X has been actively providing quality memory devices and drives for over a decade. The company is influential and has managed to obtain positive reviews from consumers. Memory X accepts positive response from its clients as its motivation. The company is operated by a team of technical experts who are highly experienced in their respective fields. Memory X assures to introduce newer products in the coming days. The company aims at establishing itself as one of the largest and convenient online memory retailers and the significant consumer response seems to have accomplished its aim already. Memory X has been rated as one of the largest and reliable online memory suppliers.
LAN Services is an Online Marketing partner of MemoryTen, Inc. The webmasters at LAN Services optimize the websites for their customers effectively to increase the visibility in all the major search engines like Google, Yahoo and Bing. At LAN Services, the team ensures that one's website seen by millions of people worldwide.
Contact Details:
5655 Silver Creek Valley
Road, Suite 436
San Jose, CA 95138
Website: http://lanservices.com