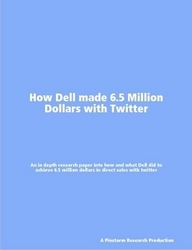 Today's corporate leaders are struggling to figure out how to use social media to further their business strategy. At Dell, we believe this is backwards thinking.
Santa Clara, CA (PRWEB) February 9, 2010
Twitter, the latest online phenomenon has grown to over 75 million users and businesses across the world are clamouring to create business sense out of this 140 character micro-blogging platform. The first winner in this race has been announced - Dell.
With over 65 twitter accounts, Dell has a tweet for virtually everybody out there - whether you're interested in buying their products, giving ideas for new ones, or even saving the environment.
The company's approach of listening before contributing sure has paid off and the flagship DellOutlet twitter page has over 1.5 million followers eager to get discounts and exclusive deals on products they are interested to know about and purchase. This sure is a far cry from the "Dell Hell" campaign that some bloggers had embarked upon a few years ago.
Dell has managed to rake in sales of over 6.5 million dollars from twitter in less than a year that it started offering exclusive discounts and deals, making it one of the few companies that have been able to understand and create revenues channels through the application.
Pinstorm Research took a look inside Dell to see how and what they did to achieve this success. Taking clues from executives within Dell, as well as researching on their online marketing operations - Pinstorm has created a report that outlines the very intricate details of Dell's twitter strategy.
Highlighting the importance of social media marketing, Pinstorm's spokesperson - Jeff Davis said, "The age of one way communication is far behind us. Your customers are now your biggest sales force. They are talking more about your products than you ever could. To more people than you ever could. And they are not doing it behind closed doors - they are doing it on blogs, on social networks and on twitter for the world to see. It's up to companies now to create sales men that will either be your brand ambassadors or destroyers"
Pinstorm hopes that this report will help companies that are trying implement social media campaigns understand and learn from the actions that Dell took. "After all" continued Jeff, "in the world of social media, mistakes echo for long..."
"How Dell made 6.5 Million Dollars with Twitter" can be purchased at Lulu.com for a special price of 49.99$ till February 28, 2010
Click here to purchase the book
About Pinstorm Research
Pinstorm Research is group company of minus6 interactive, a leading online marketing and consulting company with offices in Europe and Asia.
###