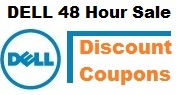 Potential customers can save money by purchasing their laptop or desktop through Dell's 48 Hour Sale.
(PRWEB) July 31, 2012
Recently, the Dell Laptop Coupons page on Bizwaremagic.com, was updated to include five new discount coupons from Dell's 48 hour sale. Potential Dell customers can save money by making one's purchase from these discount links. Quantities are limited and can end at any time. Please visit the Dell site for complete terms and conditions of these discount coupons.
Discounts from this 48 Hour Sale include a coupon where customers can save up to $389 off popular Dell laptops/desktops, with free shipping. Plus, an additional $30 off coupon may be used with this discount - again, this coupon is limited and may end early.
Another attractive offer - get a 2nd Gen Intel i5 powered Dell Inspiron 17R laptop with 8GB of memory, 1TB hard drive for $649.99 with free shipping. But this sale is not only limited to laptops, prospective buyers can also get a Dell XPS 8500 desktop with 3rd Gen Intel Core i5 processor, 8GB memory, 1TB hard drive for $669.99 - all with free shipping.
All these coupons and more, are featured on the Dell Laptop coupon page on Bizwaremagic, a general marketing site, which runs a comprehensive notebook guide to help its visitors choose the right laptop or desktop for their needs. As an added feature, this guide presents all the latest coupons from major notebook manufacturers such as Dell, HP, Sony, Toshiba... and many more.
In today's economic climate, customers need all the help they can receive when buying any product, taking full advantage of special sales and discount coupons is one way to get the best deals. Dell's recent 48 Hour Sale is a perfect example and a great starting point.
....
This special Dell Notebook Coupons Page can be found here: http://www.bizwaremagic.com/Dell_Notebook_Coupons.htm or download our comprehensive free laptop buying guide here: http://www.laptopcomputerguide.org All products/companies mentioned above are registered trademarks of their respective owners and companies. Plus, as to the FTC Guidelines, potential users of any of these coupons must know we are an affiliate of Dell and may benefit from purchases made through these discount links.