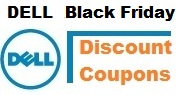 Holiday shoppers can save big on Dell's Black Friday deals, especially if they catch one of the doorbuster items and use our handy online coupons page for reference.
(PRWEB) November 22, 2012
A very comprehensive list of Dell's Black Friday Offers has just been posted to Bizwaremagic.com, which runs a handy online laptop guide. Many of the deals will be starting at 11pm CST on November 22nd, which is midnight or the start of Black Friday - Eastern Standard Time. Potential early buyers can take advantage of very attractive discounts on popular Dell laptops, desktops, tablets, monitors, TVs and much more.
According to Dell, there will be eight rounds of doorbuster events throughout the day beginning at the following times - 2AM EST, 3AM EST, 6AM EST, 9AM EST, 12PM EST, 3PM EST, 6PM EST, 9PM EST. Keep in mind, these doorbusters are limited and quantities might sell out earlier than in the allotted three hour time frame.
Included in these doorbusters are the following: Dell Inspiron 14z laptop for $299.99 and free shipping, Dell Inspiron 660 desktop for only $249.99 with free shipping, Dell IN2030M monitor for only $78.99 and a Mitsubishi 73-inch WD73C12 1080p DLP Home Cinema TV for only $849.99 with free shipping. Plus, many more offers and bargains.
There are also great sales on Dell Inspiron 15R laptops, XPS 13 inch Ultrabooks, Inspiron 17R Special Edition laptops, XPS 8500 desktops, Inspiron One 23 All-in-One desktops, plus $100 off Alienware laptops and desktops $1699 and above. Again, quantities may be limited, so see the Dell site for the exact Terms and Conditions.
As a service to its visitors and patrons, the Bizwaremagic site runs a special Dell Notebook Coupons Page, which features all the latest online Dell coupons and deals. Since Black Friday and Cyber Monday offers are so important, a more comprehensive listing of coupons/deals was called for and are presented on this handy page. Users should pay special attention to the times of the different doorbusters and bookmark this page for future reference.
Many of these bargains or coupons can only be found online and are usually snapped up very quickly, especially the most popular deals. Dell's Black Friday offers will probably experience the same fate, especially the doorbusters. So shoppers who are looking for that great Dell bargain are advised to act swiftly if they want to save money this coming Holiday Season.
A whole list of Dell Black Friday offers, coupons, doorbusters and deals can be found here: http://www.bizwaremagic.com/Dell_Notebook_Coupons.htm All products/companies mentioned above are registered trademarks of their respective owners and companies.