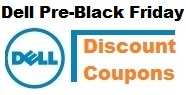 Use Dell's Pre-Black Friday Sale to beat the early birds with savings up to $389 on popular laptops and desktops - with Free shipping!
(PRWEB) November 17, 2012
New Dell Pre-Black Friday laptop and desktop discount coupons have just been added to the Dell coupon page on Bizwaremagic.com, which runs a handy laptop guide for online buyers. These new coupons feature Pre-Black Friday bargains, where potential holiday shoppers can save $100s off popular Dell laptop and desktop models.
Black Friday, which lands on the first Friday after Thanksgiving, has become one of the most important retail shopping days of the year. Perhaps, the only other comparative shopping days, would be Cyber Monday and Boxing Day. Black Friday has become so important to retailers and merchants, many of them now offer very attractive bargains before and after this event.
Dell's Pre-Black Friday discounts are perfect examples and online shoppers no longer have to wait to find tempting deals. Included in the recent offerings are the following: $389 off an Inspiron 15R Special Edition laptop, $150 off Dell XPS 13 Ultrabook and $50 off Dell Inspiron 15R laptop which is only $499.99 with free shipping.
In addition, potential buyers can get $150 off Dell Inspiron 660 desktop which discounts for only $499.99 or they can get $175 off Dell XPS 8500 desktop which is only $699.99 - both deals come with free shipping. Quantities may be limited and buyers should check the Dell site for all terms and conditions.
Bizwaremagic.com, which offers a comprehensive laptop guide, has been displaying Black Friday and Cyber Monday discounts and coupons for over five years. It seeks out the best deals and presents them to its visitors. The site runs special laptop discount pages for the different laptop makers such as Dell, HP, Alienware... among others. These discount pages are updated daily or when new discount coupons are offered. During important shopping days like Black Friday and Cyber Monday, these discount pages are updated hourly, as many coupons are limited and only available for a short time.
Savvy online shoppers know they can save money by taking advantage of these Black Friday discounts, such as the ones offered by Dell. These smart shoppers also know it is wise to bookmark certain pages so that they don't miss any money-saving bargains and discounts this coming holiday season.
The special Alienware Discount Page can be found here: http://www.bizwaremagic.com/Dell_Notebook_Coupons.htm or download our comprehensive laptop buying guide here: http://www.laptopcomputerguide.org All products/companies mentioned above are registered trademarks of their respective owners and companies.