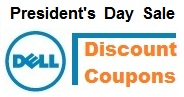 Alert online shoppers can save up to 60% by using Dell's President's Day coupons, deals and doorbusters.
(PRWEB) February 17, 2013
Savvy online shoppers can take advantage of new Dell Home President's Day laptop and desktop coupons featured on Bizwaremagic.com, which runs a very comprehensive online laptop buyer's guide. Potential buyers can receive large discounts, up to 60% off, on popular Dell products such as Inspiron and XPS laptops and computers.
The President's Day (February 18th, 2013) Sale will also include attractive money-saving Doorbusters, which will be running throughout the day. There will be four rounds of Dell PC doorbusters on President's Day only, with new doorbusters starting at 8AM, 12PM, 4PM, and 8PM EST. However, just like in the real world, quantities are limited so any online buyer must act quickly in order to secure a bargain. See the Dell Official Site for complete terms and conditions.
Some of the featured Doorbusters include the following: Dell Inspiron 15 laptop with 3rd Generation Intel Core i5 processor, 4GB memory, 500GB hard drive for $499.99; Inspiron 660s desktop with 500GB hard drive for $249.99; Inspiron 17 laptop with 3rd Generation Intel Core i3 processor, 4GB memory, 500GB hard drive for $399.99; Inspiron 17 laptop with 3rd Generation Intel Core i5 processor, 6GB memory, 750GB hard drive for $549.99 and the Dell XPS 10 tablet for only $399.99. Most of these Doorbusters come with free shipping.
Bizwaremagic.com, which has been online for eleven years, regularly lists new Dell Coupons as they are released. Many of these coupons or discounts are exclusive and can only be found online. Smart shoppers know how to take full advantage of these discount links to save $100s OFF their next Dell laptop or desktop purchase. Special selling events/holidays such as Labor Day, Black Friday, Cyber Monday and the current President's Day, are all great opportunities to nab that special deal.
Interested shoppers can find the Dell President's Day listings (including a general link featuring all the doorbusters deals) on the special Dell Discount Page which can be found here: http://www.bizwaremagic.com/Dell_Notebook_Coupons.htm or download our comprehensive laptop buying guide here: http://www.laptopcomputerguide.org All products/companies mentioned above are registered trademarks of their respective owners and companies.