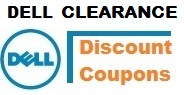 Dell Clearance Sale - Online shoppers can save up to $325 off popular Dell laptops and desktops with free shipping.
(PRWEB) January 05, 2013
New Dell home winter clearance offers and discount coupons have just been featured on the Bizwaremagic.com site, which operates a very handy online laptop computer buyer's guide. In this latest clearance sale, potential customers can save up to $325 off popular Dell laptops and desktops with free shipping.
For the convenience of these buyers, all these Dell offers and discount coupons are featured on Bizwaremagic's special Dell Discount Page, which is regularly updated as new offers are announced. Many of these laptop deals are exclusive and can only be found online.
Some of the attractive offers featured include the following: Dell's best-selling Inspiron 15R laptop (with switchable lids) for $499.99 with $189 off the market value price of $688.99. Save $70 off the popular Inspiron 660 desktop computer for only $429.99 with free shipping. Plus, get the Dell Inspiron 13z (less than 1" thin) laptop for $449.99 with total savings of $180 from the market value price of $629.99. All prices can change without notice and see the Dell site for official terms and conditions.
Most savvy online buyers know they can get great discounts by using these online offers and make it a practice of always checking for online coupons before buying a laptop or computer on the web. It is probably also a good idea to bookmark any pages featuring all these latest discounts and offers.
The special Dell Discount Page can be found here: http://www.bizwaremagic.com/Dell_Notebook_Coupons.htm or download our comprehensive laptop buying guide here: http://www.laptopcomputerguide.org All products/companies mentioned above are registered trademarks of their respective owners and companies.