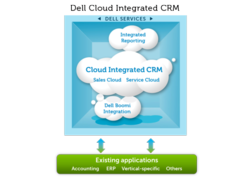 Integrated cloud applications provide a cost-effective way to connect customer-facing teams with the right information and tools to close more business, faster.
(PRWEB) December 15, 2011
WHO: Shawna Blake, an IT specialist for Salesforce CRM tools at Dell; John Lake from Panasas, a Dell Boomi customer and Jon Bennett, Solutions Architect from Dell Cloud Business Applications.
WHAT: Sponsored by Dell Cloud Business Applications, InformationWeek SMB will host a webcast with industry experts on how to develop a cloud-based CRM integration strategy that connects business processes and technology to ensure a nimble, customer-focused enterprise.
You'll learn:

Common integration points between cloud-based CRM and other business applications,
Best practice approaches for helping IT scale to serve the needs of multiple stakeholders
Real-world advice from IT leaders who have built successful integrations between their Salesforce CRM and other mission-critical applications
WHERE: Register now at Integrated CRM: Powered by Cloud
WHEN: Thursday, December 15
11:00 a.m. – 12:00 p.m. Pacific / 2:00 p.m. – 3:00 p.m. Eastern
SPONSOR: Integrated CRM: Powered by Cloud is sponsored by Dell Cloud Business Applications (DCBA). DCBA is a new Dell solution that enables small and medium businesses to leverage the power of the cloud and take full advantage of Software-as-a-Service (SaaS) to drive outstanding business performance. This family of trusted cloud applications integrates with customers' existing software and gives them real-time business visibility and analytics – all backed by turnkey Dell services. Learn more at: http://www.dellcloudapplications.com
For more information, please contact Christina Furtado in Dell Global Communications, 512-723-7523 / Christina_Furtado(at)Dell(dot)com.
###