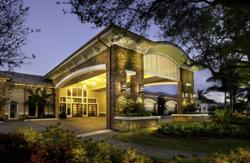 Delaire has always had an outstanding reputation for its commitment to members, but with the new facilities, it was able to secure its place among the finest clubs in America
Delray Beach, FL (PRWEB) December 18, 2012
Delaire Country Club has been the talk of the country club world, not only for its incredible transformation but also for the club's ability to attract new members. For the past three years Delaire has maintained healthy real estate sales and an active waiting list for their non-resident non-equity member program. Those interested in joining a country club have quickly discovered all that Delaire has to offer, including 27 holes of immaculate golf with no tee times, a state-of-the-art fitness center, fantastic cuisine, an elegant clubhouse and much more.
This year Delaire's exceptional amenities, new facilities, and excellent leadership earned them the coveted Platinum Club of America status, a designation reserved for only 150 of the 5,000 private clubs in the nation. "Delaire has always had an outstanding reputation for its commitment to members, but with the new facilities, it was able to secure its place among the finest clubs in America," says Trent Squire, General Manager of Delaire Country Club.
The 47,000 square- foot Clubhouse that left so many breathless at last season's opening ceremony continues to impress with its two-story foyer, main dining room, casual grill room and many other amenities. Designed by the architectural firm of Currie Sowards Aguila Architects, the facility is an updated casual luxury style that offers members an expanded level of services, further cementing Delaire Country Club's dedication to its members.
The clubhouse was only part of the renaissance that included a brand new fitness and tennis center, a zero-entry pool, splash zone, and playground for kids. The fitness and tennis center received the 2010 Excellence in Design Award presented by the Delray Beach Site Plan Review and Appearance Board.
Delaire Country Club:
Delaire Country Club is a private community of 324 single-family homes located around a superior 27-hole championship, Joe Lee -designed golf course (with no tee times). Delaire is ideally situated in Delray Beach near Boca Raton, Florida. Recent club improvements include a brand new clubhouse with an outstanding list of amenities, an award-winning fitness center, with multi-faceted options for members to improve their health and their game, a new pool, and children's play area. Delaire is ranked among the top 3% of all clubs in the nation and is proud to be honored as a 2012 Platinum Club of America.
To learn more about the lifestyle available at Delaire Country Club, contact Executive Coordinator Liz Shaw at 561-499-9090. To browse available home listings please visit: http://delaire.org/re_landing.php