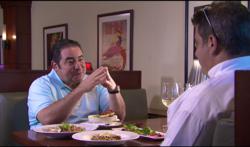 Downtown Delray Beach has long been a place where chefs flock to in South Florida to share their style and creativity. - Marjorie Ferrer, Executive Director of Delray Beach Downtown Development Authority
Delray Beach, Florida (PRWEB) February 27, 2013
Downtown Delray Beach boasts an eclectic choice of dining establishments to suit any guest's food pallet. Filled with over 100 eateries from fine dining to diners, the historic "Village by the Sea" is known to be a one-of-a-kind destination for dining and entertainment. It is no shock Celebrity Chef Emeril Lagasse chose two Downtown Delray Beach restaurants to feature in his new television show featuring South Florida food gems, "Emeril's Florida." Lagasse spent time in the kitchens of two award-winning chefs, Chef Blake Malatesta of 50 Ocean and Executive Chef Nick Morfogen of 32 East.
On Sunday, March 3rd the "Palm Beach" episode featuring 32 East, Buucan, Guanabanas, The Quantum House and Swank Farms will air at 10:30 a.m. During this episode Nick Morfogen, Executive Chef of 32 East who is on the leading edge of sustainable cuisine, shares a few dishes with Emeril and talks a little bit about what sustainable cuisine means to the Florida coastline. Lastly, Emeril tops the episode off with a trip to The Quantum House in West Palm Beach, where real people are making real impacts in the lives of children with serious medical conditions and their families.
32 East will be the second Delray Beach establishment featured since the launch of "Emeril's Florida" in January 2013. During a previous episode entitled, "Florida's Beaches & Waterfront Restaurants", Emeril showcased Chef Malatesta's wonderful creations and the awe-inspiring ocean views of 50 Ocean.
"Downtown Delray Beach has long been a place where chefs flock to in South Florida to share their style and creativity. We hope this leads to more visitors coming down to our Village by the Sea to explore the wide variety of culinary experiences Downtown Delray Beach has to offer," says Marjorie Ferrer, Executive Director of the Delray Beach Downtown Development Authority.
The "Palm Beach" episode airs Sunday, March 3, 10:30 a.m., and will re-air Monday, March 4, 9:30 a.m. and again Thursday, March 7, 11:30 a.m.
About the "Emeril's Florida" TV Series:
As part of the new 'Emeril's Florida' television series, which debuted in January 2013 on the
Cooking Channel, celebrity chef Emeril Lagasse will feature five dining locales, one farm, and one nonprofit in Palm Beach County within three of the 13-episode series. As he uncovers authentic cuisine and unbeatable scenery through the Sunshine State, Emeril not only reveals the delicious local cuisine, but steps into the kitchen and whips up the house specialties as well as some dishes of his own. As a side dish, Emeril will also highlight the beaches, agriculture, festivals and events that make Florida a one-of-a-kind destination.
About the Downtown Development Authority:
For the past 41 years, the Downtown Development Authority has assisted in successfully branding Delray Beach as the Village by the Sea. The Delray Beach DDA was created by Resolution 9-71, which became law on March 22, 1971, as a dependent district of the City of Delray Beach. The DDA Mission is to enhance and stimulate balanced economic growth through position marketing activities that engage Downtown businesses, residents and visitors while creating a clean, safe, physical and experiential place to live, work and invest. The main areas of involvement in downtown redevelopment include: Marketing and Promotions; Economic development programs; Place Making within the DDA boundaries. The DDA also works closely with merchants to develop seasonal retail awareness campaigns to generate traffic and sales and has created a powerful website http://www.downtowndelraybeach.com and facebook.com/delraydda site that attracts thousands of visits weekly.
For more information about restaurants to visit in Downtown Delray Beach please visit http://www.downtowndelraybeach.com.
Contact:
Laura Simon, Downtown Development Authority
85 SE 4th Ave, # 108
Delray Beach, Fl 33483
(561) 243-1077
Lsimon(at)downtowndelraybeach(dot)com
http://www.downtowndelraybeach.com/dda