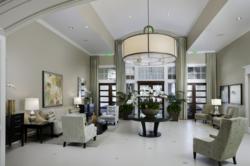 We proudly offer service with a smile, and now, we can provide less wait and enhanced service for members and their guests."
Delray Beach, FL (PRWEB) February 24, 2012
Delaire Country Club residents are enjoying the many benefits of the recently completed Clubhouse and dedicated club leadership. Delaire's forward-thinking Board of Governors embraced the latest technologies when it embarked on its $21 million expansion project.
From the front gate to the back nine, the spirit of innovation is reflected throughout the club. Delaire strives to stay ahead of the game, so it is no surprise that it has a buzzing online social networking presence. Club members are excited about connecting on the web.
Delaire is distinguished because of its low-density membership, exceptional management and loyal staff. Today, landmark ideas and technology bring a new energy, tighten the camaraderie of the Club and raise the already stellar level of personal service.
The Clubhouse
The sophisticated new design of the Clubhouse includes hi-tech touches such as WiFi hotspots, surveillance cameras for assurance and flat screen televisions in the members' lounges, the bar, patios and around the fitness center. The Clubhouse also boasts an 8 foot screen for virtual presentations and a top-quality sound system, both of which are used for events, video conferences and the Club's cultural programs.
The Clubhouse features camera systems that allow attendants to anticipate the needs of members and be ready to provide swift, quality attention. Attendants in the golf course bag drop off have surveillance monitors to see members approaching. Cameras are also used by the valet to ensure a smoother flow of traffic and minimized waiting. The valet can have members' cars waiting for them before they set foot outside.
"We are very committed to enhancing the membership experience," Delaire's General Manager, Trent Squire. "We proudly offer service with a smile, and now, we can provide less wait and enhanced service for members and their guests."
Delaire is revered for its culinary excellence. "Members have always enjoyed fresh, exquisite dining. With our new facilities, my staff and I are able bring even more to the table," explains Executive Chef Glenn Matusik.
The menu is marked by the hottest gastronomic trends and concepts. Foodies enjoy succulent dishes such as a wood-fired pizza and meats and fish that are smoked on site. Chef Matusik, whose originality pleases a variety of tastes, explains that he is currently working on inventive plate presentation as a nod to Delaire's progression.
Fitness and Tennis Center
The completely new fitness center features many of the same amenities of high-end gyms, including the latest models of cardiovascular, resistance and cross training equipment, free weights, stretch mats and commercial-free satellite radio. Members can mix their fitness routine or tailor a program with available personal trainers. Popular fitness classes such as Zumba, Pilates and yoga classes are taught in the spacious aerobics studio.
The exceptionally active state-of-the-art Tennis Center features a top of the line computerized ball machine and eight Har-Tru courts. The center is complete with a fully stocked Pro Shop that provides next day stringing and customized racquets.
Delaire Online
Delaire Country Club is even focused on advancing in the digital realm. This club is one of the first to make the social aspect of country club life accessible via the Internet. Innovative leaders believe online communication and social media will add to the membership experience. Members can always stay up-to-par with upcoming events and happenings around the Club.
Delaire's online community is defined by a Facebook page, a Twitter, a regularly updated blog and an event calendar. Social media seminars are offered to show the advantages of online interaction and how it is a new way to ensure the best country club lifestyle possible. Many members are swiftly catching on to social networking as a convenient way to interact and stay connected.
"Our idea of bringing the social aspect online proves that we are a forward-thinking club," says executive coordinator Liz Shaw. "Staying on the cutting edge is the Delaire way."
Delaire Country Club is a private community of 324 single-family homes located on Military Trail in Delray Beach, bordering Boca Raton. Delaire is experiencing increased real estate activity and new construction. To learn more about the unique lifestyle offered at Delaire Country Club, contact Executive Coordinator Liz Shaw at 561-499-9090, or visit http://www.Delaire.org.
###