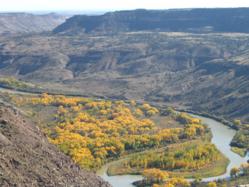 Delta County has always been an angler's paradise, and this project means even more access to prime fishing on the Gunnison River, just in time for summer.
Delta, Colo. (PRWEB) April 16, 2012
Attention fishermen and women: Delta County Tourism Cabinet announced today that it is now easier than ever to fish the Gold Medal waters of the Gunnison River. Work is complete on a passageway through Hartland Diversion Dam in the Gunnison River, which provides safe access around the dam for fish, boats and rafts. This means anglers can put in near Paonia and fish the river all the way to Grand Junction. That's more than 68 miles of uninterrupted fishing!
"Delta County has always been an angler's paradise, and this project means even more access to prime fishing on the Gunnison River," says Delta County Tourism Cabinet's Kelli Hepler. "We are thrilled about the possibilities this opens for river recreationalists just in time for the summer season."
The Gunnison River flows through the Black Canyon of the Gunnison National Park and the Gunnison Gorge National Conservation Area. Hepler says fishing is good year-round, however the best fishing is from June to October. The June Stonefly Hatch in the Gunnison Gorge attracts anglers from around the world, Hepler adds.
Those who want to see the river for themselves should attend the 13th Annual River Awareness Float Trip, May 19. In partnership with Gunnison Gorge Anglers-Trout Unlimited and the NFRIA/WSERC Conservation Center, the event includes a half-day float trip through the newly reconstructed Hartland Dam that ends at Confluence Park in the town of Delta. Participants will learn firsthand about the conservation and restoration work on the North Fork and Gunnison Rivers. After the float, participants will gather for lunch, live music, a river gear silent auction, and river-themed educational programs. Call 970-527-5307, ex. 206 for more information.
In addition to the Gunnison River, Delta County is also home to the Uncompaghre and North Fork Rivers, as well as 300 lakes on Grand Mesa, one of the world's largest flat-topped mountains. Click here for additional information on fishing in Delta County. Contact The Colorado Division of Wildlife for special regulations, licensing information and reports.
The Hotchkiss National Fish Hatchery is also a fun stop for kids of all ages. The hatchery is located about 20 miles east of the town of Delta near the town of Hotchkiss. The hatchery consists of a hatchery building with a small visitor center and tank room, residences, 32 outdoor concrete raceways, 24 nursery tanks, and six earthen ponds.
About Delta County
Delta County, Colo., is located on Colorado's western slope at the base of Grand Mesa, one of the largest flat top mountains in the world. An agricultural and heritage hotbed, this region is home to the communities of Cedaredge, Crawford, Delta, Eckert, Hotchkiss, Orchard City and Paonia.