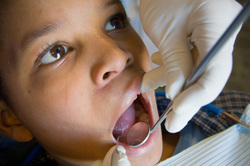 The use of social scripts works especially well for children who have autism or developmental disabilities
Minneapolis (Vocus) November 29, 2010
Fraser, a Minnesota nonprofit serving children and adults with special needs, and Delta Dental of Minnesota recently made available the My Healthy Smile app for iPhones and iPods.
My Healthy Smile was developed to teach children about good oral health and to ease anxieties around dental visits. Eleven audio and visual social scripts help teach children what to expect at the dentist and how to have good oral care at home. Topics include: having your teeth cleaned, taking X-rays, getting fillings, losing a tooth, brushing and healthy eating.
"The use of social scripts works especially well for children who have autism or developmental disabilities," said Pat Pulice, Director of Autism Services at Fraser. "The My Healthy Smile app is designed for children between the developmental ages of 3 and 10." The app was created in partnership with dentists, oral health professionals and families.
"It is vital that children and adults with special needs connect with their oral health in positive ways," said Ann Johnson, Director of Community Affairs at Delta Dental of Minnesota. "When anyone - children or adults - experience dental anxiety, the consequences can be profound. The result is often avoidance of establishing basic daily and preventive dental care, which can lead to pain and more costly dental treatment. The My Healthy Smile app can help children and adults with special needs as well as their parents, caregivers and dentists, who collectively can help make a difference."
About Fraser – Founded in 1935, Fraser serves children and adults with special needs in the areas of education, housing and healthcare. Fraser is also Minnesota's largest and most experienced provider of autism services. For more information, call 612-861-1688 or visit http://www.fraser.org.
About Delta Dental of Minnesota – An independent, non-profit health services company, we take seriously our mission to serve Minnesotans' oral health needs. Since 1969, we've accomplished this mission by providing the best access across the state to oral health care through affordable dental plans. We also know the importance of doing right by the communities we serve. We've partnered with community organizations and social service agencies to address the dental needs of Minnesota's underserved and uninsured populations. In 2009, we contributed more than $985,000 in grants and donations to support a range of programs addressing oral health and community needs. Delta Dental of Minnesota is based in Eagan, Minnesota. Delta Dental is a registered mark of Delta Dental Plans Association. Delta Dental of Minnesota is an independent nonprofit dental services company and is an authorized licensee of the Delta Dental Plans Association of Oak Brook, Illinois. For more information, visit http://www.deltadentalmn.org
Contact:
Ann Johnson, (651) 994-5248
ajohnson(at)deltadentalmn(dot)org
Mary Arneson, (612) 798-8349
marya(at)fraser(dot)org
# # #