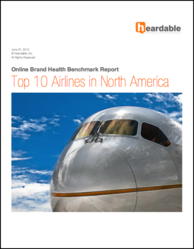 Delta wins top spot in two consecutive Heardable research reports
Temecula, CA (PRWEB) July 02, 2012
Today Heardable, Inc., (http://heardable.com), the standard for measuring online brand performance, released an all new benchmark report titled, Top 10 Airlines in North America, that assesses the online performance of the top 10 airlines in North America. Delta earned the top spot in a field of strong competitors.
Delta's brand health score of 739 out of 1,000 possible points beat its nearest competitor, United Airlines, by 17 points, or 2.30%, and surpassed third place American Airlines by 66 points, or 8.93%. The gap between Delta and lowest-ranked Aeromexico was 195 points, or 26.39%.
It's been 18 months since Heardable published its first report on the top performing airlines in North America and this time around, Delta was the top performing online brand once again. Delta is a clearly a bright and shining star for online branding done right.
In looking at the airline industry as a whole, there's been a 36% improvement in the overall brand health scores of the top 10 brands since Heardable's last report on the airline industry, which is an encouraging step forward.
So how did Delta Air Lines rise to the position of category leader?
Three areas of competence caught our attention:
1) sharing and syndicating content
2) social media participation
3) search optimization
In addition to delta.com, Delta maintains a strong social media presence on sites such as Facebook, Twitter and YouTube. It also publishes a blog, offers a version of its site that's optimized for mobile smartphone browsing, and publishes a text-only version of its website.
"Delta has accomplished what few brands have been able to do in the digital era," said Jon Samsel, co-founder and CEO of Heardable, Inc. "Not only have they finished #1 in two consecutive Heardable research reports profiling the effectiveness of the airline industry, but they've manage to make their brand synonymous with a quality online experience -- which in an of itself requires a spirit of listening and a knack for delivering. Hats off to Delta's management and marketing teams for leading the pack yet again."
Top 10 Airlines in North America, Ranked by Heardable Score (1000 points possible)
1. Delta - 739
2. United Airlines - 722
3. American Airlines - 673
4. US Airways - 666
5. Southwest - 657
6. JetBlue - 639
7. WestJet - 629
8. Hawaiian Airlines - 580
9. Air Canada - 555
10. Aeromexico - 544
Heardable's brand health scores are like credit scores for brands. Scores range from 0 to 1,000. Basically, the higher your score, the better you're doing. Each brand health score is comprised of six subscore categories, each focusing on a unique element of a brand's online effectiveness: Portable, Searchable, Sociable, Measurable, Actionable, and Shareable.
The full report is available at:
http://heardable-reports.myshopify.com/products/top-10-airlines-in-north-america
To learn more about the report, Heardable's methodology or get insights into other brands, contact marketing(at)heardable(dot)com or call 1-888-520-0034.
About Heardable
Heardable is a platform-as-a-service company that fuses math, measurement and marketing best practices into the world's only real-time contextual brand analytics platform that monitors the hundreds of tiny levers through which online brand value is created. With its Growth and Accelerator platform-as-a-service offerings, Heardable helps organizations make smarter, faster business decisions to impact tomorrow's quarterly results. With over 15 million brands profiled and 800 unique online variables capture per brand at various points in time, Heardable's "big brand data" repository can be utilized by any business looking for ways to optimize their online performance, boost brand awareness and increase revenue. Heardable, Inc. is a privately held company based in Temecula, CA with an office in Singapore.