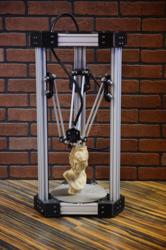 The four of us wanted to showcase the 3D printing process from start to finish. We wanted to create an experience.
Orlando, FL (PRWEB) February 27, 2013
DeltaMaker, a clean and elegant 3D printer, has only two days remaining on Kickstarter. Since the 3D printer surpassed the $107,000 goal with 15 days left in the campaign, DeltaMaker has entered the production process. That means consumers only have two days left to purchase at the Kickstarter price of $1,499, which is 20% off the DeltaMaker's $1,999 suggested retail price.
What sets DeltaMaker apart is the ability to watch the process of creating a print. Unlike most 3D printers on the market, the DeltaMaker builds the product layer-by-layer right before your eyes. Using the delta approach first introduced by the Rostock project, the three arms of the DeltaMaker move efficiently and precisely to create a quality 3D print. The DeltaMaker offers 100 micron layer resolution capabilities while performing fused filament fabrication (FFF) with 1.75mm PLA or ABS plastic. With a 10" diameter by 11" tall build envelope, DeltaMaker offers an efficient footprint to build envelope ratio allow large prints with a compact desktop footprint. DeltaMaker's incredible speed, quality, and entertainment value is not possible with a traditional box 3D printer.
"We aimed to build more than just a traditional 3D printer," says Craig Rettew, one of the founders of DeltaMaker. "The four of us wanted to showcase the 3D printing process from start to finish. We wanted to create an experience."
Seeing as the 3D printer continues to exceed its goal, obviously backers agreed with their vision. The DeltaMaker team is extremely excited about their Kickstarter victory, and they hope to build upon their success layer-by-layer in the 3D market. It is their overall goal to transition 3D printing from being limited to the industrial world, and place it in everyday locations and homes for all to use.
For further information, visit DeltaMaker's Kickstarter page here http://bit.ly/DeltaMakerKS. The campaign ends February 28th, 2013 at 11:59pm (EST), so be sure to purchase the DeltaMaker for $1,599 before it is too late.
About DeltaMaker
DeltaMaker, created by Zack Monninger, Craig Rettew, Robin Lopez and Bob Houston is headquartered in Orlando Florida. With degrees in Mechanical Engineering, Electrical Engineering, Aerospace Engineering and Software Engineering, the team at DeltaMaker is poised for success in the 3D printing world. To learn more about the company and its new product, visit http://www.deltamaker.com, Like them on Facebook at https://www.facebook.com/deltamakers and Follow them on Twitter at https://twitter.com/deltamaker.