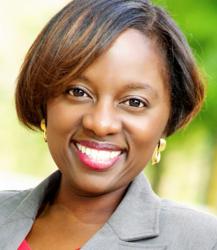 When I wrote the poem, "The Twenty-Two" over a year ago, I had no idea I would share it on such an important evening
Atlanta, GA (PRWEB) April 25, 2013
Angela Ray of Angela Ray International will perform her poem, "The Twenty-Two" at the Centennial Torch Tour Celebration for Delta Sigma Theta Sorority, Inc. on Saturday, April 27, 2013 at 6:30 P.M. The event will take place in Centennial Park in downtown Atlanta. The afternoon will begin with a Parade of Chapters which will start at 5:30 P.M. The event in Atlanta is one of twenty-two cities hosting the tour and will honor the sorority's national secretary, Beverly E. Smith. A few of the cities that have hosted the tour thus far include New Orleans, Chicago, Los Angeles, Detroit and Tokyo, Japan.
Delta Sigma Theta Sorority, Inc. began celebrating its centennial year this past January with a float in the Tournament of Roses Parade in Pasadena, California. A couple of weeks later, the sorority hosted a special Founder's Day Weekend Event in Washington. The Centennial Torch Tour is only one part of the commemoration. In July, the sorority will mark its 51st National Convention in Washington.
Founded in 1913 on the campus of Howard University, the sorority has a rich history in public service. Notable members of the sorority include Soledad O'Brien, Alexis Herman, Aretha Franklin, Johnnetta B. Cole, Regina Benjamin, Cicely Tyson, and Gwen Ifill. Ray was initiated into the sorority while she was a student at the University of North Carolina.
"I am honored to be a part of the historic event," Ray said. "When I wrote the poem, "The Twenty-Two" over a year ago, I had no idea I would share it on such an important evening." Other performers include violinist Ken Ford and poet Hank Stewart.
A highly requested speaker high school and college students, Ray is also a George Moses Horton Award winning poet and the author of the book of poetry, Blackberry Whispers. Her latest book, Rays of Motivation, was released in March.
The Centennial Torch Tour is a two day event with a special sold out celebration on Friday for members only. The event on Saturday is open to the public. For more information, please visit http://www.deltatorch100atl.com.
About Delta Sigma Theta
Delta Sigma Theta Sorority, Inc. is a private, non-profit organization whose purpose is to provide assistance and support through established program in local communities throughout the world. A sisterhood of more than 200,000 predominately Black college educated women, the Sorority currently has over 900 chapters located in the United States, England, Japan, German, the Virgin Islands, Bermuda, the Bahamas and the Republic of Korea.
About Angela Ray International
Angela Ray is an award winning speaking and author who has spoken to thousands of audiences around the country. She created Angela Ray International LLC to empower individuals and organizations. She has worked with a variety of clients including North Carolina Central University, St. Joseph's Historic Foundation, Voorhees College, Specialized Contract Services, and Southside Virginia Community College to name a few. A recognized authority on leadership and communication, Ray is committed to transforming lives and developing megastar leaders.