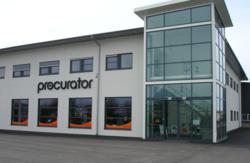 Armandt and his team led the company to award winning success by improving in stock performance 8 percent, increasing inventory turns by 3.6 and reducing inventory 25 percent.
Atlanta, Georgia (PRWEB) February 05, 2013
Leading Swedish retailer of industrial work safety supplies and winner of Retail TouchPoint's 2012 Customer Engagement Award in the Supply Chain category, Procurator, has sustained bottom-line gains and reported even further stock reductions. Anders Armandt, Purchasing Director at Procurator, exceeded his goal to reduce inventory and achieved a two million dollar reduction using the Blue Ridge demand forecasting, planning, replenishment and analytics solution.
In January 2012, the Purchasing Director made a commitment to the CEO that he would cut inventory by 8 million kronor (1.25 M USD) by the end of the year. "Yes, the commitment was bold," stated Armandt, "But impossible? No." Recently, he presented the numbers. The reduction was not 8 million kronor as promised, but 12 million kronor (2 M USD).
The major reduction came on the heels of substantial improvements in inventory optimization, for which Procurator received Retail TouchPoint's Customer Engagement Award. Armandt and his team led the company to award winning success by improving in stock performance 8 percent, increasing inventory turns by 3.6 and reducing inventory 25 percent. Upon recognizing the initial results, Armandt was not inclined to rest on his laurels and quickly pointed out, "Good will only get better."
While Procurator's appetite for continual improvement undoubtedly played a significant part in the company's success, Armandt was also quick to attribute a share of the company's success to the collaboration with their supply chain planning partner Blue Ridge. Armandt concluded, "This is just as much a result of the support and analytics that Blue Ridge brings to the table as it is a result of our work in the CLARITY forecasting and replenishment system. Without the team at Blue Ridge, it wouldn't have happened."