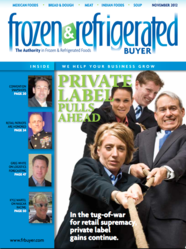 Rather than waste 90 percent of their time, we manage much of the work for them and let them focus on only demand that must have eyes on it
Atlanta, Georgia (PRWEB) November 28, 2012
In their column "New and Sexy Stuff", Frozen & Refrigerated Buyer Magazine put the spotlight on Greg White, CEO of leading SaaS demand forecasting, planning and replenishment provider Blue Ridge. The prominent food retail publication implored White to give his thoughts on managing demand forecasts to optimize an organization's supply chain for greater efficiency and profitability.
The article focused on forecasting, demand exceptions, and keys to generating the most accurate possible forecast. White stated that purely statistical forecasting systems, which are historically based, inevitably err because the method does not consider price changes, promotions, buyer behavior, or other causal factors. Changes in causal factors can mean that historical demand is less relevant in predicting future demand. Demand planners and replenishment buyers often evaluate exceptional demand occurrences against forecasted demand to attempt a more accurate forecast. This "exception management" process can be laborious, resource consuming, emotional, and therefore inaccurate.
Frozen & Refrigerated Buyer Magazine connected with the Blue Ridge CEO for expertise on bringing more accuracy to forecasts, and greater efficiency and visibility to the supply chain. The company developed an innovative, inventory-focused solution which manages exceptions based on rules, and employs filters to focus users on only the most impactful exceptions that absolutely require human intervention. "Forecasting and replenishment teams have long been told that only 10 percent of their demand exceptions require their expertise, yet they are presented with hundreds or thousands of exceptions by many systems," stated White, "Rather than waste 90 percent of their time, we manage much of the work for them and let them focus on only demand that must have eyes on it."
Along with White, the Blue Ridge team has many experts with over a decade of supply chain experience. The company has leveraged this expertise to deliver innovative solutions and service offerings and has been increasingly recognized as an authority on demand-driven supply chain optimization. White was recently featured in the business leadership book Million Dollar Blind Spots: 20/20 Vision for Financial Growth. Both White and the author Gary W. Patterson will be signing the book on January 14, in booth C226 at the National Retail Federation Big Show in New York City.
About Blue Ridge Inventory
Blue Ridge leads the way in enterprise-class Software-as-a-Service supply chain solutions. Blue Ridge solutions and services turn inventory investments into cash flow and revenue generation opportunities. The company's robust cloud-based solutions deliver a tightly-integrated, yet flexible architecture for demand analytics, forecasting, planning, replenishment, SKU rationalization and other demand-driven optimization solutions to provide a sound foundation on which companies can solidify and enhance their supply chain initiatives. To find out why global supply chain leaders such as Burris Logistics, CRP Industries, Europris, Home Hardware, K. Ekrheim, Lovenskiold, Martin Brothers and Procurator trust Blue Ridge and its unmatched expertise as their inventory alignment partner, visit http://www.blueridgeinventory.com