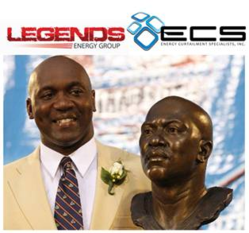 In an industry that did not exist ten years ago, demand response has now provided 200 well-paying jobs at ECS and continues to grow in a rust belt town like Buffalo, New York. - Thurman Thomas.
Buffalo, NY (PRWEB) February 28, 2013
Thurman Thomas, Founder of Legends Energy Group, spoke at the White House for the Council on Environmental Quality's GreenGov Dialogue to address the nation's growing need for demand response and energy efficiency initiatives. Mr. Thomas presented his ideas and experience in the industry among his peers in state and federal government energy policy, nonprofit organizations, the private sector, and academia to advocate the importance of continued growth within the demand response industry.
In recent years, Thurman Thomas started Legends Energy Group as a marketing liaison of Energy Curtailment Specialists, Inc. (ECS), the nation's leading privately-held demand response provider and a true pioneer of the industry. In his speech, Mr. Thomas' underlying message to his audience was quite clear – the key to expanding the industry is to make people not only familiar, but comfortable with the idea of demand response and smart energy management for their business.
"Making people comfortable about demand response is what I find to be most important. As much as demand response has grown over the past several years, there are still a lot of companies - big companies - that just haven't thought about it. It just hasn't been a priority for them. Getting to those people is the key to continued growth of the industry."
The demand response industry emerged just over a decade ago, gaining momentum with energy policy makers and regional and independent power authorities as the ever-rising trend of electric demand sparked a severe logistical challenge on a national scale. As the needs of industry and of the residential population prompts rapid growth, current electricity supply ceases to sufficiently meet our nation's ever-growing demand. Demand Response programs have been developed to mitigate this very significant problem. During rare peak days of stress on the grid, businesses and organizations are called upon to curtail or shift their electricity usage. These valuable demand-side resources help to prevent catastrophes such as blackouts and brownouts and ensure the stabilization of their power grid. In return, they are financially compensated, much like a power plant supplying power to the grid.
As it stands, the idea of demand response remains unexplored by many. Business owners across North America are unaware of the substantial economical and environmental benefits that stem from DR. In close alignment with the ideas laid forth in the Federal Energy Regulatory Commission's National Action Plan on Demand Response, Thurman Thomas works to effectively communicate and promote the importance of Demand Response and alternative energy strategies. Demand Response not only gives organizations the opportunity to yield significant new revenue streams for their business by participating, it has developed into its own thriving industry, creating jobs and boosting the energy and local economies as a whole.
"The Demand Response industry is an example of entrepreneurial activity in the Green Economy. In an industry that did not exist ten years ago, demand response has now provided 200 well-paying jobs at ECS and continues to grow in a rust belt town like Buffalo, New York," explained Thurman Thomas.
About Thurman Thomas
Thurman Thomas was inducted into the Hall of Fame in 2007, after a distinguished 12 year career that included four Super Bowls, five Pro Bowl selections and numerous other honors. Thurman is now a successful and well-respected business man in the energy industry, as well as a strong supporter of national and local charitable and community organizations.
About Energy Curtailment Specialists, Inc.
Energy Curtailment Specialists, Inc. (ECS) offers consultative, administrative, and turnkey demand response services. ECS is one of the largest demand response service providers in North America, with more than 12,000 facilities participating in its programs nationwide. ECS is currently serving markets across North America including New York, California, Texas, the PJM territory and Ontario, Canada. For more information please call 877-711-5453 or visit http://www.ecsgrid.com.