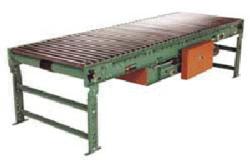 Nothing says please order conveyors quite like a promotional discount.
Boston,MA (PRWEB) January 14, 2012
Conveyors are integral to many companies' efficiency plans. A Plus Warehouse is pleased to offer Roach Conveyors as a valued vendor for customers nationwide. Roach is a limited distribution line, so A Plus Warehouse needs to earn the privilege of the Roach Conveyors franchise. Of course, A Plus Warehouse is always diligent with customers on any needs including conveyors. The purpose of this promotion is to stimulate demand for the Roach Conveyors line. By offering the demand Roach Conveyors promotion, A Plus Warehouse is both reinforcing a great relation with Roach, and also providing value to customers.
According to Jim O'Sullivan, product line manager at A Plus Warehouse, "We need to encourage more customers to order Roach Conveyors. Nothing says please order quite as well as a promotional discount." Promotions can at times be narrow in focus. In the case of A Plus Warehouse's demand Roach conveyors promotion, the doors are wide open. The discount will apply to any Roach Conveyor priced normally. The promotion does not act in conjunction with other discount offers.
There is a wide variety of items that Roach Conveyor Manufacturing produces in USA, and A Plus Warehouse would like to describe their offering. From 1 3/8 to 3.5 inch diameter roller conveyors, Roach has the application covered, normally from stock also. In terms of powered conveyors, Roach stocks slider bed, liver roller, roller bed and inclined conveyors as well. The quick ship program works fairly easily. Any order for stock items placed by 12:00 PM will ship the next working day. Roach has conveyors in stock by component, and they assemble orders in the evening. One could say conveyor elves put conveyors together after the sales people go home. This is a humorous way of looking at it, but it is a fair description.
A Plus Warehouse provides other items as well, and customers should consider economizing on the number of vendors used on any given order. Some customers ordering conveyors may well be about to order industrial shelving as well. When A Plus Warehouse has an order for shelving as well as conveyors, the customer enjoys a lower price , given the single order set up cost associated with a two item purchase order. Customers are in a cost savings mode in many cases, and combining orders makes financial sense.
A Few Words on A Plus Warehouse
A Plus Warehouse is a master dealer for Roach Conveyors and also provides storage cabinets and other storage equipment as well. Customer service is always the priority.
# # #