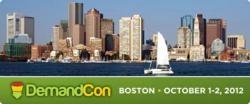 (PRWEB) August 23, 2012
BrightCarbon founder Joby Blume will address DemandCon Boston, 2 October. His talk is entitled 'Sales Presentations that Accelerate Your Sales Funnel'.
The session will tell participants how to create effective B2B sales presentations. It will show delegates how to avoid the most common mistakes in corporate presentations; write persuasive sales messages for presentations at each stage of the sales funnel; create compelling visuals to help presenters sell; move beyond one-way sales presentations to visual sales conversations; adapt sales presentations for virtual selling; and to ensure sales tools actually get used by sales people in the field.
Joby Blume commented "It's great to see sales presentations recognised as being an important part of what helps sales and marketing teams to advance deals. PowerPoint might not be sexy, but it sure gets used a lot."
Tickets to DemandCon are available in advance for $1,795.
About BrightCarbon
BrightCarbon helps sales and marketing teams hit their numbers, by creating visual presentations and B2B sales tools.
BrightCarbon helps companies to tell their stories elegantly and visually, with effective sales presentations and tools that people want to use. With BrightCarbon:

Sales representatives stop wasting time creating their own collateral, and become more productive
Companies improve conversion rates and deal velocity
Average order size increases
BrightCarbon also offers an iPad sales presentation design service, aimed at companies using iPads for face-to-face sales, wishing to avoid the high costs of app development.
BrightCarbon has offices in the UK and Singapore.