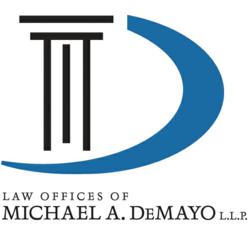 We received a record number of applications this year and were very impressed with the quality of the presentations.
Charlotte, NC (PRWEB) May 02, 2012
For the ninth consecutive year, the Michael A. DeMayo Scholarship program has awarded $2,500 scholarships to local high school seniors. In 2012 fifteen high school seniors have been awarded the $2,500 scholarships towards their college education. The students were judged on a number of criteria including the submission of a presentation or essay on the prevention of underage drinking and driving.
They received a record number of applications this year and were very impressed with the quality of the presentations.
The 15 graduating high school seniors all reside and attend schools in counties served by the firm. North Carolina counties include: Mecklenburg, Gaston, Catawba, Union, Cabarrus, Cleveland, Lincoln, Rowan, Caldwell, Stanly, Iredell, Alexander, Burke, Robeson, Scotland, Richmond, Anson and Cumberland. South Carolina counties include: York, Lancaster, Chesterfield, Marlboro and Dillon.
The winners include:
Dakota Palacio - Al Brown High School/Cabarrus County
Bria Soto - Marvin Ridge High School/Union County
Matthew Sciascia - Hickory Ridge High School/Cabarrus County
Taylor Thompson - Mooresville Senior High School/Iredell County
Emilia San Miguel - Robert Logan Patton High School/Burke County
Kirsten Consing - Fred T. Foard High School/Catawba County
Brianna Gallegher - East Lincoln High School/Lincoln County
Cassidy Plyler - Metrolina Christian Academy/Union County
Austin Rhyne - North Iredell High School/Iredell County
Megan Gurjar - Lake Norman High School/Iredell County
Amare Seltun - South Point High School/Gaston County
Graham Collins - Covenant Day School/Mecklenburg County
Meredith Avant - Independence High School/Mecklenburg County
Tanner Hallgren - Cato Middle College High School/Mecklenburg County
Meredith Morrow - Ardrey Kell High School/Mecklenburg County
Winners were chosen by a selection committee.
"Our scholarship program attempts to capture the ideas and suggestions of teenagers, because young adults respond best to advice from their own peers," said Attorney Michael A. DeMayo, who has awarded over $200,000 in scholarships since founding the program in 2003. "It is our hope and objective to get the message out to as many teens as possible in our community because even if the scholarships save only one life, the investment will have been worth it."
Web links to the 15 winning presentations will be published in a booklet and sent to community leaders and lawmakers with hope that the students' observations and suggestions could help formulate public policy and increase awareness.
The Law Offices of Michael A. DeMayo L.L.P. has offices in Charlotte, Hickory, Monroe and Lumberton and practices in the areas of personal injury, wrongful death, workers' compensation, nursing home negligence and social security disability.
For more information, contact The Law Offices of Michael A. DeMayo or visit http://www.DeMayoLaw.com.