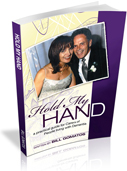 (PRWEB) May 29, 2012
As the world's population ages, so too do the numbers of dementia sufferers, including those diagnosed with Alzheimers Disease. A newly released book 'Hold My Hand" by Australian Bill Gomatos is a moving account of how he rearranged his life to ensure that his wife, Chrisoula, continued to receive the care she needed in a familiar and loving environment: home.
Bill emigrated to Australia as a young man, and there a lifelong romance and partnership began when he met Chrisoula. They worked together in their family business in country Victoria for over 30 years, but their retirement dreams were shattered when, in 2004, Chris was diagnosed with Alzheimers dementia.
As Bill soon discovered, when a family member elects to care for a loved one with dementia, they face both practical and emotional obstacles. 'Hold My Hand' explores those challenges, and reveals the innovative, yet common sense, strategies that Bill has used to make his life as a dementia carer easier.
"There was never any doubt that I would become Chris' carer, ours is a partnership for life" said Mr Gomatos. "But I was really flying blind - there was no instruction book or guide to help me."
"It meant that I had to devise my own ways of managing Chris' day to day care as well as uncovering what help was available to people like me" he continued. "And while there is a great deal of of assistance out there, it is not easily found."
This was the impetus for Bill to write 'Hold My Hand'. In doing so he has created a practical guide for caring for people living with dementia, at home, with input from other carers who have shared their stories and strategies that have never before been documented in such a caring and thoughtful way.
'Hold My Hand' details the vast array of support organisations and programs which are available in Australia, and provides relevant contact information for readers.
"My aim in writing the book was to ease the lives of other carers, and their loved ones" said Bill.
'Hold My Hand' by Bill Gomatos is available now from http://www.holdmyhand.net.au.
About Bill Gomatos
Bill Gomatos was born in Greece, the youngest of five children. He immigrated to Australia as a young man, where he met his wife-to-be, Chrisoula. Together they ran their own business in the food and dairy industry for over 30 years, and raised four daughters.
Bill has always been a proud father and husband, but his life changed dramatically when Chris was diagnosed with dementia in 2004, and he became her full time carer.
In 2012 Bill's first book 'Hold My Hand', a guide for carers of people with dementia, was published.
More information is at http://www.holdmyhand.net.au.