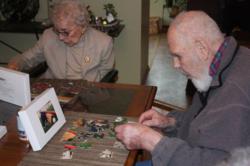 Activity is not just a divergence or an excitement. It is a way of making the most of the individual's abilities.
Minneapolis, MN (PRWEB) March 13, 2013
Currently, over 5 million Americans are living with Alzheimer's disease or other forms of dementia (Alzheimer's Association Facts and Figures 2012). This number is expected to grow to epidemic proportions in the coming years, multiplying by a factor of three, as baby boomers age.
Individuals with Alzheimer's have gradually progressive difficulties with memory, initiating and planning tasks, completing tasks, and communication. All of these can cause the person to become inactive and lacking mental stimulation.
According to Jitka Zolga, occupational therapist and author of the book Doing Things: A Guide to Programing Activities for Persons with Alzheimer's Disease and Related Disorders, "activity is not just a divergence or an excitement. It is a way of making the most of the individual's abilities."
MindStart is a dementia care product company based in Minnesota, founded by occupational therapist, Monica Heltemes. They design and manufacture Alzheimer activities that are easier, have adult themes, and provide mental stimulation for all stages of the disease process. They recognize that caregivers seek support in knowing how to keep the person with dementia mentally stimulated.
Therefore, MindStart has created a tip sheet to provide these 5 Caregiver Tips to Help the Person with Dementia Stay Active, or keep 'doing things':
1. Assess the current status: Caregivers should assess what are the person's current capabilities are and what causes them difficulty. For instance, the person may be able to do a few steps of a task at a time or do they might do better with only one step at a time.
2. Determine the right activity: To do this, the caregiver should determine the complexity of a chosen activity and see how it can be simplified. For example, a board game that requires strategy may be too complex, but a game with matching may work well. Reading a book may be too difficult but reading greeting cards or looking at photos may be just right.
3. Consider timing: Individuals with dementia need structure and routine in their day to promote best ability to function, so caregivers should incorporate tasks they can help with into the daily routine. For instance, the morning routine may include the person with dementia getting the paper, setting out coffee cups, eating breakfast, drinking coffee and then wiping off the table, with support from the caregiver as needed.
4. Introducing the activity: How the caregiver presents the idea to do an activity may make a difference in how the person with dementia responds. If the caregiver asks the person directly if they want to do the task, he or she may quickly say no. He may not fully understand what is being asked and, therefore, refuse because it is easier and safer. Instead, the caregiver should ask the person for his help, which will increase the likelihood that he will participate.
5. Relax the Rules: Caregivers need to recognize that there is no right or wrong in the activity. It is not about completing an activity from start to finish in the typical way. Instead, it is the doing that is important for the person with dementia, even if it is just one or two steps of the full task. For instance, for the person who used to bake cakes, the multiple steps of measuring, mixing, baking, and frosting may be too difficult. But the person may be able to place cupcake liners into the pan and stir the batter, with set-up and cuing by the caregiver.
Occupational therapists see people as occupational beings, who 'do' things. This philosophy holds true for people with dementia, albeit in a different fashion. Dementia caregivers, whom can be family, friends, or staff, are pivotal in keeping an active, and therefore meaningful, routine in the lives of individuals living with dementia.