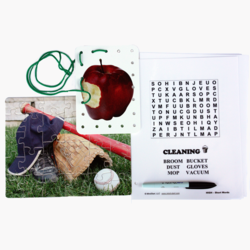 Use appropriate Alzheimer activities to form a connection and have fun together.
Minneapolis, MN (PRWEB) November 14, 2012
Today 5.4 million Americans are living with Alzheimer's disease or other forms of dementia (Alzheimer's Association Facts and Figures 2012). Individuals with dementia can have difficulty with recent memories and with communicating, making it harder to maintain relationships with others on their own. Often, their friends, neighbors, and extended family members do not know how to handle this, so stop visiting or calling. In honor of Alzheimer's Disease Awareness month, MindStart is offering dementia care tips for these acquaintances so they can still have a good visit and support the person with dementia
Individuals with dementia are forgetful, repeat questions, have difficulty finding the right words, and might get frustrated or angry more easily, as they miss pieces of information. Friends, neighbors, and extended family who try to continue relationships with the person may not understand these deficits and might mistake errors for being rude, flighty, unconcerned, or even mean. Some acquaintances and family may stop calling or visiting because of this or because of fear of the disease or not knowing what to say.
Occupational Therapist and MindStart owner, Monica Heltemes, offers these tips for visiting the person with dementia so the that relationships can continue.

Choose a quiet calm location
Introduce yourself, as needed
Keep focus on the person, using eye contact and patience
Avoid correcting; instead offer reassurance and praise
Avoid open-ended questions; instead use yes/no questions or questions where 2 choices are given
Monitor body language and facial expressions of the person
Enter their world. Talk about what they are thinking about at the time.
Reminiscence is a wonderful tool. Talk about past interests or significant life events.
Use specific Alzheimer activities to form a connection and have fun together.
Individuals with dementia need to feel cared for and supported, at all stages of the disease process. Caregivers can use these tips to help the person with dementia keep the support of friends and others, at a time when it is needed most.