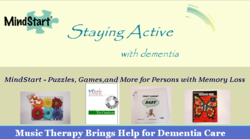 Our email articles are an easy way to reach caregivers with quick tips and practical ideas
Minneapolis, MN (PRWEB) January 23, 2013
5.4 million Americans are currently living with Alzheimer's disease or other forms of dementia (Alzheimer's Association Facts and Figures 2012). Alzheimer's disease affects many functions of the brain, such as problem solving, memory, and communicating. As the person has more difficulty thinking, they often stop doing tasks, socializing with others, and participating in hobbies.
MindStart, founded in 2010 by occupational therapist, Monica Heltemes, strives to provide cognitive stimulation, engagement, and joy to individuals with dementia and their caregivers. They are the only United States' company to offer a line of original activity products designed for people living with dementia, including large piece puzzles, games, DVDs, and books. In addition to products, MindStart provides educational tips, resources, and activity ideas for people providing dementia care, both professional and home caregivers, through their website, email updates, and social media sites.
To allow contacts of the MindStart email list to receive messages with maximal educational benefit in a concise, easy to read manner, MindStart announces a new email format. Emails will feature a topic of interest, with a brief summary, and then an option to read and learn more, if desired. Topics will include:

Tips for managing common dementia caregiving issues
Alzheimer activities that can be adapted for different stages of dementia
Dementia news updates and resources
Product announcements or specials
MindStart emails currently reach over 1600 contacts, which includes professionals, such as memory care managers, geriatric care managers, activity professionals, therapists, and administrators, and families dealing with dementia. The new email format can be viewed in a recent email article from MindStart, focusing on the use of music therapy in dementia care.
MindStart owner shares, "MindStart aims to help people with dementia to stay active, even as their cognitive abilities decline. As dementia care can be a lonesome and difficult road, our email articles are an easy way to reach caregivers with quick tips and practical ideas that they might otherwise not be aware of."
Joining the MindStart email list can be accessed here.
MindStart is a small, family owned business, providing activity products for those with Alzheimer's disease or other dementias, while providing support and education for caregivers. MindStart works with dementia care experts and USA companies to design and manufacture adapted, yet dignified, activity products that are based on common hobbies and themes of everyday life and that provide cognitive stimulation for every stage of the dementia disease process.