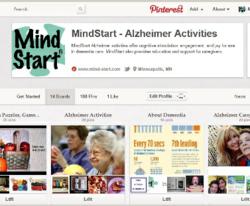 The resources on the MindStart Pinterest site support their company mission of providing cognitive stimulation for individuals with dementia.
Minneapolis, MN (PRWEB) February 20, 2013
Currently, over 5 million Americans are living with Alzheimer's disease or other forms of dementia (Alzheimer's Association Facts and Figures 2012). This number is expected to grow to epidemic proportions in the coming years, multiplying by a factor of three, as baby boomers age. Individuals with dementia often become more inactive and isolated, as their mental and social abilities are affected.
MindStart, founded in 2010, is the only United States' company to offer a line of original dementia activities. Their adapted puzzles, games, DVDs, and books aim to provide cognitive stimulation and opportunities for engagement for individuals with dementia and their caregivers.
In addition to their website, MindStart uses social media, including Facebook, LinkedIn, and Twitter, to reach people looking for dementia care resources. They now announce the addition of a MindStart Pinterest page.
Pinterest is a content sharing site that allows users to 'pin' images, videos, and other content from the internet, just as if it were a bulletin board. Pins can be categorized into separate boards and can be re-pinned by others.
The MindStart Pinterest board currently has 14 boards. Board categories include:

Alzheimer Activities
Alzheimer Caregiver Advice
About Dementia
For Dementia Professionals
Alzheimer Awareness
Articles for caregivers on the site provide education on topics from understanding dementia, to knowing how to make tasks easier to do, to knowing what to say when visiting the person with dementia. Images on the site show MindStart products and ideas of Alzheimer activities that are easy and inexpensive to implement.
Videos on the Pinterest site show how the MindStart products work and how they have been used successfully with individuals with dementia. There is also other videos and images about real life families dealing with dementia.
The resources on the MindStart Pinterest site support their company mission of providing cognitive stimulation, engagement, and joy for individuals with dementia, while providing education and support for caregivers. The nature of Pinterest allows dementia care products, educational and informational articles, and real-life stories all to be housed in one, organized location.
MindStart foresees that the Pinterest page will be a venue to reach dementia caregivers and professionals in a new and different way.
MindStart is a small, family owned business, started by an occupational therapist to provide activities for those with Alzheimer's disease or other dementias, while providing support and education for caregivers. MindStart works with dementia care experts and USA companies to design and manufacture adapted, yet dignified, activity products that are based on common hobbies and themes of everyday life and that provide cognitive stimulation for every stage of the dementia disease process.