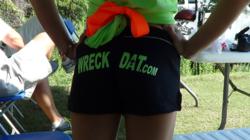 Hattiesburg, MI (PRWEB) October 11, 2012
When it comes to demolition, most people think of wrecking balls, building implosions, and bulldozers. Rhino Demo, industrial and commercial demolition contractors in the Southeast United States are adding one more term to the demolition glossary, Wreck Dat.
While they pride themselves on their safety record, efficiency, experience of industrial and large commercial demolitions, Rhino Demo is also striving to peak mainstream America's interest in demolition. They hope to do this in part through education material published on their demolition blog, bringing fun new terms such as "Wreck Dat" to the industry forefront as well as introducing the nation to the Wreck Dat Girls.
"COO Jamie Montgomery is the brain trust behind the Wreck Dat phenomenon. The Wreck Dat girls will bring a touch of class to an industry that has somewhat of a tarnished reputation. We at Rhino Demo like to think we are making way for the future," stated Ricky Myers, CEO of Rhino Demo.
The Wreck Dat Girls recently appeared at the David Baria Golf Classic with former New Orleans Saints football players including Deuce McAllister and John Forcade. The event was held at the Bridges Golf Course at the Hollywood Casino in Bay St. Louis, MS. Photos and videos from the event can be seen on the Wreck Dat Site.
About Rhino Demo
Rhino Demo, LLC is one of the Southeast's premier demolition contractors specializing in Industrial Demolition and Environmental Remediation. They pride themselves on their impeccable safety record, as well as their Green/LEED practices (96% average recycle rate of all demolition related materials).