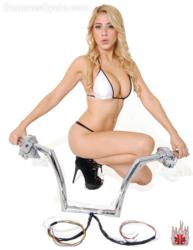 The El Diablo range offers style and quality without cutting back on quality.
Pompano Beach, FL (PRWEB) March 08, 2012
Demon's Cycle Inc., a custom motorcycle builder and custom Harley-Davidson motorcycle parts supplier, is pleased to announce the launch of a new range of ape hanger handlebars. Called "El Diablo", the new range offers style, excellent finish and high build quality but at 75% of the price of similar handlebars from Harley Davidson.
All El Diablo handlebars use triple-plated chrome parts and feature smooth hidden mounting hand controls, hidden wiring and, of course, chrome switches. The El Diablo range also includes handlebars which come fully assembled by a professional Harley-Davidson certified mechanic. These bars are ready to be installed on your motorcycle in minutes.
The El Diablo handlebars come in a number of different sizes including 10, 12, 14, 16 and 18 inch. The 1-1/4 inch diameter bars have a center section and tip that tapers to 1 inch so that standard handlebar controls fit. For those who don't like chrome, they are also available in black.
"One key way to customize a bike is to change its handle bars," said Tom Steinbacher, owner of Demon's Cycle. "The El Diablo range offers style and quality without cutting back on quality. Although there are several different styles of handlebars for Harley Davidson bikes, the truth is you
can't beat the style and look of ape hangers, especially the ones from the El Diablo range."
Ape hanger handlebars get their name because of the way they cause the rider to reach up to use them. Although some riders say they can be uncomfortable, it is almost universally agreed that ape hangers are more stylish for choppers.
About Demon's Cycle
Demon's Cycle is an multi-million dollar international custom motorcycle wholesale company that sells direct to the public. Based in Pompano Beach, South Florida, Demon's Cycle was started more than nineteen years ago by Tom Steinbacher and has a reputation as a pioneer of radical motorcycle designs, Euro style bikes and custom chopper concepts. Demon's Cycle is an international custom motorcycle wholesale company that sells to the public direct. As well as building custom motorcycles and selling rolling chassis, Demon's Cycle specialize in the sale of custom parts for Harley-Davidson motorcycles. They offer a wide range of parts including gas tanks, handlebars and all the necessary auxiliary components like air cleaners and wheels.
Contact
Demon's Cycle Inc.
1407 SW 10th Ave.
Pompano Beach, FL 33069
Telephone: 954-943-0000
Fax: 954-943-0377
Email: sales(at)demonscycle(dot)com
Web: http://www.demonscycle.com