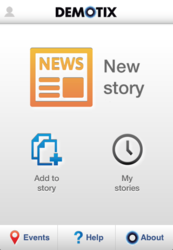 "We believe journalists – whoever and wherever they are – deserve to be paid for their work," said Munthe.
London, UK (PRWEB) August 20, 2012
Demotix, the multi-award winning citizen journalism network, today announced the launch of its free news apps designed for photographers and videographers to upload and sell raw, breaking news images and video directly from the field.
With the new mobile app, photographers can now upload up to 25 images or videos while adding titles, captions, summaries and navigating entries using the latest swipe technology. The Demotix iPad app (link to app in iTunes store) allows high-end camera users to upload stories anytime, anywhere directly from the field.
"Today's news belongs to its witnesses, and Demotix seeks to empower them," said CEO, Turi Munthe. "We built Demotix to give the person on the street a voice: now our network of 30,000 photographers and videographers stretches from Boston to Baku, and so does our network of clients."
Unlike most citizen journalism organizations, Demotix employs a round-the-clock team to verify every piece of news that hits the site. Demotix then licenses the best of that content to mainstream news organizations around the world and splits the proceeds 50:50 with its contributors. "We believe journalists – wherever and whoever they are – deserve to be paid for their work," said Munthe, "it's not an easy job – it takes time, dedication and talent." Demotix images and video sell daily all over the world, and our work has appeared on the front covers of Time Magazine, the NYT, WSJ, Guardian, and others all over the world.
About
Demotix, which launched in 2009 to promote journalism from the harder-to-reach corners of the world, now boasts 30,000 contributors and has a global distribution network with sales teams and representatives in over 40 countries. It won the Guardian Media Awards in 2009, was a Webby Honoree in 2011, and has been described as "Journalism for the 21st Century" by the Telegraph. Techcrunch described Demotix as "Reinventing the Newswire". Demotix is a global partner of Corbis, which helps distribute Demotix images/video around the world.