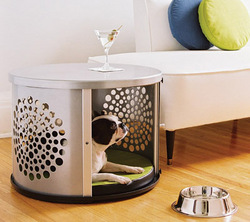 At DenHaus we understand the pet owner dilemma- stylish home, not-so-stylish, space-consuming dog crates and beds. The BowHaus modern dog furniture collection fits with a variety of décor and does double duty as a pet Den
Bellevue, WA (PRWEB) January 28, 2009
The newest DenHaus dog furniture collection, the BowHaus, is targeted towards the urban pet owner and doubles as a home for pets.
Many of the 43 million dog owning households in the U.S. believe their pet deserves a room of their own to be near the rest of the family. DenHaus, maker of dog dens that also serve as furniture, agrees. Today DenHaus announces the re-launch of the BowHaus collection of furniture that is as stylish and modern as it is functional. The BowHaus was successfully sold in markets across the United States in 2006 and 2007 and is now available for pre-order only from the DenHaus Web site. The BowHaus will start shipping in March of this year.
DenHaus designs furniture, fondly know as Dens, to help eliminate the conflicts pet owners experience in sharing space with their pet. The DenHaus dog furniture collections appeal to dogs' natural instincts for a sanctuary of their own and the pet owner's desire for functional style.
"At DenHaus we understand the pet owner dilemma- stylish home, not-so-stylish, space-consuming dog crates and beds. The BowHaus modern dog furniture collection fits with a variety of décor and does double duty as a pet Den," said Sarah Pierce, DenHaus Co-Founder and CEO. "We love helping people bring their pet and home together."
BowHaus - Solving the City Dwelling Pet Owner Dilemmas:
With its metallic color and striking starburst design, the BowHaus modern dog furniture collection is ideal for people with small dogs and limited space - common in urban lofts and homes. With the addition of the BowHaus collection, urban dog owners who face daily challenges associated with compact living with their canine now have a way to make their limited space work for both them and their companion. By providing modern dog furniture that serves as a sanctuary for the dog and a place to store the toys and treats out of sight, DenHaus makes it simple and stylish for these owners to experience happy co-habitation with their pet. Sharing an urban home with dogs has never been easier.
BowHaus is Locally Made, Uses 'Green' Packaging:
The BowHaus modern dog furniture collection, crafted of easy-to-clean and durable metal, is manufactured in the United States by workers with disabilities. Additionally, the BowHaus is distributed in 100 percent recyclable packaging.
Pets - A Spendy Member of the Family:
The growing trend of humanization of pets and the owners' desire to pamper them is driving significant growth in the pet products industry and DenHaus is well-poised to take advantage of this trend. Dog owners across the U.S. want to include their pet in their life and everyday family moments, yet continue to be challenged by the unsightly appearance of dog crates and dog pillows that quickly become hair-covered and dirty. With two out of every three households in the U.S. owning a pet (71.1 million homes) and an estimated $43.4 billion spent on pets during 2008, consumers are opening their pockets to make their furry family member feel right at home. (Source: 2007/2008 National Pet Owners Survey, American Pet Products Association, Inc.)
About DenHaus:
DenHaus designs furniture to help pet owners create personal space in their home for their pet that also works for their style. The DenHaus dog furniture set consists of the ZenHaus collection, a suite of sleek, sophisticated, oval Dens and the TownHaus collection, a set of wooden Dens crafted in a classic, timeless style. All DenHaus Dens are distinguished by unique design, quality craftsmanship, and superb comfort. The DenHaus mission is to help pets and the people who love them live happily together.
###