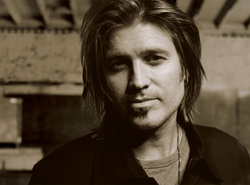 It's an honor for me to be able to represent the Entertainment Industry Foundation for this incredible cause through Lee National Denim Day
Merriam, KS (PRWEB) August 27, 2007
Billy Ray Cyrus is the latest name to be added to the roster of celebrities putting on their jeans on October 5 for Lee National Denim Day, one of the nation's largest single-day fundraisers for breast cancer.
Cyrus, who has a family history of breast cancer, has volunteered his time to the campaign which raises funds for the Women's Cancer Programs of EIF. He is asking people nationwide to wear their jeans on October 5 in exchange for a $5 donation for the fight against breast cancer.
A multi-platinum singer/songwriter and star of the hit Disney Channel series "Hannah Montana," Cyrus recently released his debut album for Walt Disney Records, "Home at Last." The CD is currently in the Top 15 on Billboard's Country Album chart.
To encourage people to participate, Cyrus has recorded both radio and television public service announcements and will do television interviews with stations across the country. Additionally, Cyrus has created an online team page, a new feature of the campaign, dedicated to "his girls"--his mom, wife, and three daughters. Fans that join his team on denimday.com have a chance to win an autographed copy of "Home At Last" or a pink Les Paul Vixen guitar from Gibson Guitars.
"It's an honor for me to be able to represent the Entertainment Industry Foundation for this incredible cause through Lee National Denim Day," said Cyrus. "I can tell the women in my life how to handle a lot of things, but I can't protect them from breast cancer. I want to raise so much money that people stand back and say 'wow, that was fun and it did a lot of good.'"
With this commitment, Cyrus joins a list of honorary celebrity ambassadors who have built team pages on denimday.com, including 2007 lead ambassador Mariska Hargitay and celebrated actresses Gabrielle Union and Kerry Washington.
Also supporting Denim Day for the second year in a row is the cast of NBC's "The Office" - Steve Carell, John Krasinski, Reinn Wilson, Jenna Fischer, and B.J. Novak - who appear in a television public service announcement which uses the show's signature quirky humor to ask viewers to get involved. The PSA will air on NBC stations throughout August and September and can also be viewed on denimday.com.
"We are so excited to have such a wonderful team of celebrities supporting Lee National Denim Day," said Liz Cahill, VP of Marketing and Communications for Lee Jeans. "Their involvement shows how many lives breast cancer touches, and gives fans a way to show their support by joining a team."
Net proceeds from Lee National Denim Day will help advance some of the most promising early detection and treatment research in the country. Specifically, the funds will be used by the Women's Cancer Programs of EIF to:

Establish the Lee Jeans Translational Laboratories which has brought together top-flight scientists at leading medical institutions including: Jonsson Comprehensive Cancer Center/David Geffen School of Medicine at UCLA; The Sidney Kimmel Comprehensive Cancer Center/Johns Hopkins University Medical Institutions; Vanderbilt-Ingram Breast Cancer Program/Vanderbilt University; Havard Medical School; Pritzker School of Medicine/University of Chicago; and Baylor College of Medicine.
Support EIF's Breast Cancer Biomarker Discovery Project, a multi-year coalition effort by nationally and internationally recognized scientists and clinicians, including four Nobel laureates, who are collaborating in a groundbreaking research project to develop a blood test that can detect the cancer at an early stage when survival rates are highest. Medical institutions receiving funding include: Fred Hutchinson Cancer Research Center; Institute for Systems Biology; Broad Institute of MIT & Harvard; Harvard Medical School/Dana Farber Cancer Institutes; University of Southern California/Norris Comprehensive Cancer Center; and Battelle/Pacific Northwest Laboratory.
Provide grassroots support to EIF's long-standing beneficiary the National Breast Cancer Coalition - the nation's leading grassroots breast cancer advocacy organization - to build out more evidence-based, web-based and print resources to help individuals make more informed decisions about risk, diagnosis and treatments options.
Companies, schools or organizations that register by visiting denimday.com or calling 1.800.521.5533 will receive a comprehensive participation kit, which includes educational materials in addition to supplies for easy coordination.
Lee® Jeans is a division of VF Corporation. (NYSE: VFC). Headquartered in Merriam, Kan., Lee manufactures and markets brand denim, casual pants, shirts, fleece and knit apparel. VF Corporation is a leader in branded lifestyle apparel including jeanswear, outdoor products, image apparel and sportswear. VF Corporation's press releases, annual report and other information can be accessed through the company's home page http://www.vfc.com.
The Entertainment Industry Foundation (EIF), as a leading charitable organization of the entertainment industry, has distributed hundreds of millions of dollars to support charitable initiatives addressing critical health, education and social issues. Through its Women's Cancer Programs, the Entertainment Industry Foundation is committed to saving lives by raising awareness about the importance of early detection of breast and reproductive cancers, providing funds to advance treatment research, early detection methods, and supporting community programs that assist the millions of women and their families at risk of or affected by cancer. For questions about EIF's Women's Cancer Programs and information, visit http://www.eifoundation.org or call 800-426-0010.
Lee Jeans founded Lee National Denim Day, the largest single-day fundraiser for breast cancer. Last year, more than 1 million people participated and more than $5 million was raised. Celebrities involved in this year's event include Mariska Hargitay, Billy Ray Cyrus, Gabrielle Union, Kerry Washington and the cast of The Office.
###