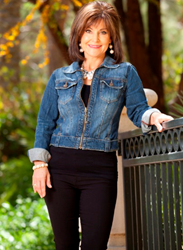 The more we listen to the Holy Spirit, the more our prayer lives become God focused instead of 'me' focused.
Round Top, TX (PRWEB) September 15, 2014
Carla McDougal travels all over the world delivering messages of hope and inspiration to various women's groups. She is the founder of Reflective Life Ministries, located on the web at http://www.reflectivelifeministries.org, and is also the author of My Prayer Chair which has been translated into Spanish as Mi Sillon de Oracion. Carla's outreach ministry includes many retreats and workshops each year, and her next women's retreat will be part of her "Denim & Diamonds" series to be held on September 19 to 21 at the Round Top Retreat Center. This event is sponsored by Crosby First Baptist Church.
Carla's "Denim & Diamonds" retreats focus on how God sees each of His children through His own Son, Jesus. This retreat is based on a "Western" or "Texas" theme with many activities to engage participants such as skits, scripture lessons and more. Participants learn how to move from "A Diamond in the Rough" to "Maintaining the Sparkle" by studying what the Scripture says about God's purpose for each life.
The women of Crosby First Baptist Church will meet at the Round Top Retreat Center in Round Top, Texas, to enjoy a time of fellowship and Carla's teaching. Carla's text for the "Denim & Diamonds" retreat comes from Isaiah 45:3: "I will give you the treasures of darkness and hidden riches of secret places, that you may know that I, the Lord, who call you by your name am the God of Israel." Carla will focus on helping these women understand their God-given purpose and calling in life through her humor and wisdom.
"Denim & Diamonds" is not Carla's only themed retreat. Reflective Life Ministries offers many ways for groups to study the Bible and learn more about God's word through Carla's teaching. For more information on booking Carla as the leader for a retreat or workshop, see http://bit.ly/RQb8zk.
About Carla McDougal:
Award-winning author and speaker, Carla McDougal founded Reflective Life Ministries in 2008. Her true passion is her Lord and Savior, Jesus Christ. It humbles her to realize His love, grace, and mercy go beyond her understanding. She truly believes laughter is medicine from the Lord that breaks down walls and removes the masks in our lives. As a result, God has taken her around the world to encourage others to live every day for Him. Her latest book, My Prayer Chair, won multiple awards in 2013 and is now available in Spanish. Carla and her husband, Fred, live in the Houston, TX area and have three sons, one daughter, and two daughters-in-"love." She smiles to think of the experiences God has allowed in her life to teach and remind her "He is in control."