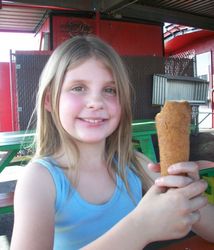 People come to Denio's for a lot of reasons, and one of them is definitely our corn dogs.
Roseville, CA (Vocus) March 26, 2010
When it comes to putting something on a stick, it is hard to compete with the folks at Denio's Roseville Farmers Market & Swap Meet.
For 41 of its 63-year history, Denio's has been serving up corn dogs on a stick – an estimated 5 million corn dogs over the years, helping to create memories for millions of visitors.
On Sunday, March 28, the nation will mark national "Something on a Stick" Day and Denio's will join in the celebration. In conjunction with the event, Denio's is offering a 2-for-1 corn dog coupon that can be used from Friday, March 26 through Sunday, March 28. To print out a coupon, visit the Denio's website at http://www.DeniosMarket.com.
"People come to Denio's for a lot of reasons, and one of them is definitely our corn dogs," said Eric Denio, grandson of Jim Denio, who founded the popular outdoor market in 1947. The market today includes hundreds of vendors and is the largest market of its kind in Northern California.
A vendor originally began selling corn dogs at Denio's in the early 1960's. Once he retired in 1969, Jim Denio decided to continue with corn dogs and created his own special recipe for the corn dog batter – which is milled in Denio's name and has sold in the millions since that time. To this day all corndogs are hand-stuck, hand-dipped and cooked up fresh and continuously all day.
The corn dog has become such a Denio's tradition that the company's employee newsletter is called "The Corndog Gazette."
"My grandfather started the corn dog tradition a long time ago and people have loved them from the very start," Eric Denio said. "We wanted to have a little fun with 'Something on a Stick Day' so we are offering a 2-for-1 coupon on our website that will give people even more reason to want to shop at Denio's and have one of our hand-made, great-tasting corn dogs."
Although no one is exactly sure when the corn dog originated, a New York Times story in 2009 made reference to corn dog stands being around as early as 1947 in New York City.
Yet the corn dog could have come along much earlier. In her book, "300 Years of Kitchen Collectibles," author Linda Campbell Franklin wrote that the "Krusty Korn Dog baker" machine appeared in a 1929 wholesale catalog book used by hotel and restaurant supplies.
Some fun corn dog facts:
• Corn dogs are also known as: Dagwood Dog, Pluto Pup, Mercury Mutt, Pogo Sticks, Dippy Dog and Wobo
• In Japan, corn dogs can be purchased at many supermarkets and convenience stores and are called "American Dogs," due to their United States origin.
• In Canada, corn dogs are called "pogo sticks" or "pogos," because of a popular Canadian brand name
• Australians are accustomed to dipping their corn dogs (a hot dog sausage on a stick) in a tub of tomato sauce at sporting events or shows. Depending upon the region, the corn dog is known as Dagwood Dog, Pluto Pup/Pop or Dippy Dog
• The corn dog is believed to have its California origin in 1946 when Dave Barham opened the first location of Hot Dog on a Stick at Muscle Beach in Santa Monica
Denio's is open every Saturday and Sunday from 7 a.m. to 5 p.m., rain or shine. The Friday outdoor market is also open from 10 a.m. to 3 p.m.
For more information, visit http://www.DeniosMarket.com or call (916) 782-2704.
CONTACT
Jeff Weidel
(916) 781-0616
###